The 'Avengers 5' Release Date May Have Already Leaked
What does this mean for the MCU in Phase 5?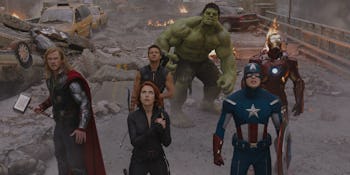 Marvel
When will the Avengers assemble next? The superhero team took a might beating in Avengers: Endgame, losing multiple key members despite eking out a victory over Thanos, and Marvel's made it clear that it could be a while before a new version of the group reassembles to take on the next Avengers-level threat. That said, a new leak from a very reliable Marvel Studios tipster may have just revealed the Avengers 5 release date — and even hinted at what that next threat will be.
The latest leak comes from Twitter user Charles Murphy, who's accurately predicted a bunch of recent Marvel news. Back in May, he revealed that Marvel had started casting its leads for Shang-Chi, which turned out to be true. Then on July 16, he accurately leaked every movie release date in Marvel's Phase 4 just a few days before the official announcement was made at Comic-Con.
So when Murphy shares new Marvel Studios release dates, you should probably listen, and that's exactly what happened this week. Following Comic-Con, Murphy's continued to update his Phase 5 timeline, which currently includes Black Panther 2 on Feb 18, 2022 and Guardians of the Galaxy Vol. 3 on May 6, 2022. However, the latest update to that list includes a mysterious new addition that seems a lot like Avengers 5.
That emoji speaks volumes. Something huge is coming to the Marvel Cinematic Universe in May 2024, which, based on what we know of Phase 5, could be the final movie in that grouping.
We could be looking at some other epic introduction like the Fantastic Four, the X-Men, or even Blade (Murphy's a big fan), but c'mon, it's gotta be Avengers 5, right? Reddit certainly think so, but there's some disagreement on what that placement means for the movie's plot.
Some fans think that May 2024 could be slated for Young Avengers, while others argue that it would be too soon to introduce an entirely new superhero team — especially when there are plenty of readily available characters who could make up the new time.
"I don't really care for Young Avengers," writes redditor u/ruxi23 "I'm much more interested in a movie featuring the new Avengers we have now : Captain Marvel , Black Panther, Ant Man, Wasp, Spider-Man, Doctor Strange, Scarlet Witch , Falcon, Bucky and I suppose Shang Chi as well."
One strong possibility may be Avengers 5: Secret Invasion. A Skrull takeover was teased at the end of Spider-Man: Far From Home, and that would certainly be a big enough event to merit assembling the Avengers again. Then again, May 2024 is a long time away. By then, who knows what the MCU will look like.