'Black Panther 2' could use a wild mecha concept cut from 'Infinity War'
The Avengers' loss is Wakanda's gain.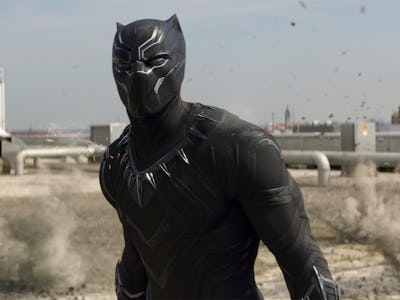 Marvel Entertainment
Wakanda, as conceived in the Marvel Cinematic Universe, is pretty perfect. When you're watching a movie like Infinity War and the mere theme song for a location causes the audience to burst into applause the way they did when Ludwig Goransson's Wakanda theme hits, there's nothing that needs fixing.
Still, the last few weeks have been full of interesting reveals of scenes, concepts, and designs that didn't make the final cut in the two most recent Avengers films (the other being Endgame). From a recent revelation that Hulk would have appeared in the Battle of Wakanda to a series of reveals regarding the Way Station, which we first glimpsed when Thanos pulled off The Snap, there's clearly a lot out there that didn't make it to screen. One of these lost pieces of Avengers: Infinity War is perhaps the only way to have legitimately made Wakanda even cooler: giant robots.
Production art in the book Art of Avengers: Endgame reveals that the Wakandan forces could have been given a significant upgrade in Infinity War in the form of giant weaponized mech suits. Not only that, but they would have had help as they would have been joined by robotic animals to assist them in combating the forces of Thanos.
Production artist Faust De Martini had a clear vision for how this would all play out in the movie. "I wanted to make it like this being that is moving around that you initially don't even know what it is," he says, "But then you see there's a guy driving that." Unfortunately, the Marvel Studios higher-ups passed on this concept. However, don't give up hope quite yet.
Black Panther 2 will inevitably have to go even bigger than its predecessor. While we got a good look at the massive Wakandan army in the film as well as in Infinity War, Wakanda is a place of constant technological evolution. There's no reason these dope mechs shouldn't appear in Black Panther 2 (well, excluding Ryan Coogler not having a way to organically fit them into the story).
In a recent interview with MTV about his new movie 21 Bridges, star Chadwick Boseman shared his hopes for a sequel that's even bigger and better than the first. "Hopefully we can maintain the foundation that we sort of set and build upon it and expand it and explore it," the actor explained. "But I think first you have to maintain the foundation. We built a culture and a world, so you have to make sure that you keep that in place."
Black Panther 2 will be out on May 6, 2022. Here's hoping it brings a handful of rad mech suits with it when it arrives.