Marvel adds 5 new mystery movies through 2023. Here's what they may be.
Disney just added even more MCU dates through 2023.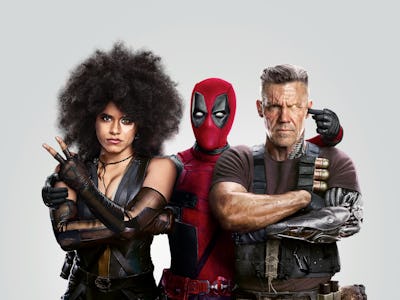 20th Century Fox
We've known what to expect from the Marvel Cinematic Universe's Phase Four since Comic-Con in July, when the studio announced release dates for Black Widow, Shang-Chi and the Legend of the Ten Rings, Doctor Strange in the Multiverse of Madness and more. But on Friday evening, Marvel Studios quietly added five mystery movies to its calendar up through 2023, pushing its releases well into the mysterious territory of Phase Five.
As revealed by Disney, the five new Marvel dates are as follows.
For reference, two other dates in 2022, February 18 and July 29, are also reserved for Marvel projects not yet been revealed. (It's important to note the dates below refer exclusively to theatrical releases, not the Marvel shows on Disney+.)
While there is no exact word on what most of these movies will be, we can make a strong prediction based on previous teasers and reports about Marvel's final Phase Four and potential Phase Five lineup.
Here's what we know for sure: In addition to the announcements made at Comic-Con and D23 (where the studio announced Black Panther 2 for May 6, 2022), Marvel has made several vague mentions regarding sequels like Guardians of the Galaxy Vol. 3 and Captain Marvel 2.
It's these movies, plus the Marvel franchises previously owned by Fox (such as Deadpool and X-Men) that could fill in the unknown Phase Four/Five slate.
Below, we put on our best Uatu the Watcher hats on and predict what Marvel movies you're getting in late 2022 and 2023.
Blade
Our guess: Releases on October 7, 2022
At Comic-Con, Marvel Studios ended its first "Phase Four" reveal with Oscar-winner Mahershala Ali waltzing into Hall H and donning a baseball bat for Blade. The actor will portray the vampire hunter in a reboot set within the Marvel Cinematic Universe. But when? Well, it just so happens that Marvel has a movie slated for October 2022. That's a pretty great time to go looking for vampires.
Ant-Man 3
Our guess: Releases on July 29, 2022
A third movie in Marvel's Ant-Man franchise was reported by The Hollywood Reporter on November 1. Sources tell the magazine that filming is expected to begin "at the end of 2020 or top of 2021" for "release in 2022." Aside from our guess for Blade, the five new Marvel dates do not include such possibility for Ant-Man 3, however there is a 2022 release date for July 29.
Guardians of the Galaxy Vol. 3
Our guess: Releases on February 18, 2022
After much ado about everything, James Gunn will return to direct his misfit family, the Guardians of the Galaxy, but only after he wraps up work on The Suicide Squad. (Yes, a DC movie.) Like Ant-Man, the Guardians are expected to return to the big screen in 2022, which again leaves them out of the possibility for any of the five new Marvel dates in 2023.
Based on the May 2020 release for Black Panther 2 and our guess that July 29, 2022 will go to Ant-Man 3, Guardians of the Galaxy Vol. 3 may hit theaters on February 18; the series has made erratic appearances throughout the calendar year, debuting in August 2014 and the sequel releasing in May 2017. It wouldn't be out of place for the Guardians to reunite even earlier in the year.
Our guess: Releases on February 17, 2023 or May 5, 2023
Following the Disney/Fox merger, discussions seem to be ongoing for the popular R-rated franchise to be included in the more family-friendly MCU.
In October, Ryan Reynolds shared a photo of himself on Instagram in the waiting room of Marvel Studios. His caption joked that he auditioned for the role of Tony Stark before being escorted out of the building, but reality suggests that a more genial exchange happened for Reynolds in the MCU.
Deadpool was released in theaters in February 2016, a dark horse that proved both the moneymaking potential of R-rated superhero movies and February release dates not being hopeless. Deadpool 2 hit theaters on the more safe date of May 18, 2018, just weeks after Avengers: Infinity War. It just so happens that 2023 has dates in both February and May, which means we're definitely seeing Wade Wilson's MCU debut around that time — if Marvel doesn't kick him out.
The Fantastic Four
Our guess: Releases on May 5, 2023
Kevin Feige "didn't have time" at Comic-Con to talk about the Fantastic Four, Marvel's first family, who are expected to debut in the MCU in Phase Four. But four years is plenty of time to write, cast, shoot, and edit a movie, which leaves 2023 wide open for a proper adaptation of the Fantastic Four. If Deadpool doesn't hog May 2023, that early summer May 5 release date is ideal for a traditional superhero movie starring a hot, bickering family.
Captain Marvel 2
Our guess: Releases on July 28, 2023
Like the Fantastic Four, Kevin Feige teased a sequel to 2019's Captain Marvel for Phase Four at the very end of the Comic-Con presentation. We're going to take a wild guess here and say the movie will be released on July 28, just a little bit after Independence Day. An American Air Force pilot traversing the galaxy to beat up aliens? Sounds like a July movie to me.
X-Men
Our guess: Releases on November 3, 2023
Also at Comic-Con, Kevin Feige teased the introduction of "mutants" to the MCU. At last, the X-Men are indeed joining the Marvel family, but when?
The last date we haven't guessed yet is November 3, 2023. Previous X-Men movies have seen summer releases, with few exceptions (Logan was released in March 2017). But Marvel seems to reserve its most epic movies for Thanksgiving; The Eternals, a Marvel superhero ensemble about immortal aliens, will be released around this time next year in 2020.
November 2018 was also the date for Inhumans, a franchise Marvel hoped to be an X-Men substitute until it was reworked into a short-lived ABC series.
Black Widow, the next Marvel movie, will be released in theaters on May 1, 2020.