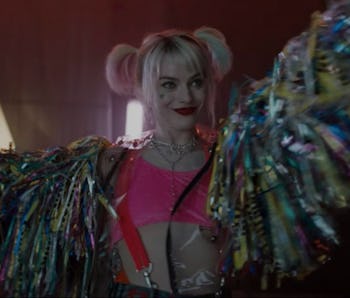 Entertainment
'The Suicide Squad' Cast Announced — Here's Who They're (Probably) Playing
Many of these remain unknowns.
Warner Bros.
James Gunn dropped a bombshell of a cast list for the upcoming The Suicide Squad reboot film on Friday afternoon with no details whatsoever about who's playing who in the cast. There's a mix of totally new characters, recast alternate versions of the same characters (probably?), and several key actors are returning for the same roles from the first movie. Perhaps most notable, Will Smith will not return as Deadshot, so the character will be omitted entirely.
We didn't know a whole lot about the film other than Gunn's involvement and that it would be some kind of pseudo-reboot. After today's announcement, we … still don't know that much. Still, let's break down everyone in this announcement and what we know about the roles that they're playing.
David Dastmalchian — Polka-Dot Man
John Cena — Christopher Smith, aka the Peacemaker (theory)
Jai Courtney — Captain Boomerang (returning)
Joaquin Cosio — unknown
Nathan Fillion — unknown
Joel Kinnaman — Rick Flag (returning)
Mayling Ng — Orana (our theory)
Flula Borg — "love interest"
Sean Gunn — unknown
Juan Diego Botto — unknown
Storm Reid — daughter of Bronze Tiger
Pete Davidson — unknown [Editor's note: Joker?]
Taika Waititi — unknown [Editor's note: Also Joker?]
Alice Braga — unknown
Tinashe Kajese — unknown
Daniela Melchior — Ratcatcher
Peter Capaldi — somebody who's bald [Editor's note: Bald Joker?]
Julio Ruiz — unknown
Jennifer Holland — unknown
Viola Davis — Amanda Waller (returning)
Idris Elba — Not Deadshot; Bronze Tiger (rumor)
Margot Robbie — Harley Quinn (returning)
Michael Rooker — unknown
At one point or another, it was rumored that Idris Elba would replace Will Smith as Deadshot. It was also rumored that Michael Rooker would play King Shark, but that role went to Steve Agee.
Actors like Nathan Fillion and Sean Gunn are part of director James Gunn's regular acting troupe, so their presence comes as no surprise. There's no way to predict how significant their roles might be, but Deadline referred to Fillion's position as a "starring role." Somebody like SNL comedian Pete Davidson is a real surprise.
One theory you probably won't see anywhere else: Mayling Ng was actually in Wonder Woman as Orana, an Amazonian warrior who is a villainous rival to Diana in the comics. Could she reprise such a role as a member of the Suicide Squad? Maybe! The film won't come out for almost a full two years, and table reads only just recently began.
We're not even sure how this movie will connect to the broader DC Extended Universe, and it'll be quite some time before we learn much more.
The Suicide Squad will be released August 6, 2021.