James Gunn Jumps to DC, Will Write and Direct 'Suicide Squad 2'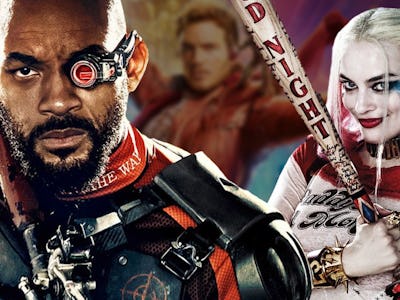 Marvel Entertainment, Warner Bros. Pictures
Who's directing Guardians of the Galaxy Vol. 3? It won't be James Gunn, because the filmmaker is now working for Warner Bros. on Suicide Squad 2.
A report from TheWrap — and confirmation by io9 — reveals that Warner Bros. has signed James Gunn to write and direct a sequel to 2016's Suicide Squad.
Gunn, who wrote and directed both Guardians of the Galaxy movies for Marvel and earned a total of $1.6 billion worldwide, was fired from production on the third movie after right-wing internet users found offensive old tweets from Gunn, most of them circa 2009.
Between 2008 to 2011, Gunn used a "shock" approach to humor, tweeting jokes about pedophilia and writing blog posts about graphic sexual intercourse with fictional Marvel superheroes. These posts have since been deleted, and Gunn apologized for his humor back in 2012.
"A couple of years ago I wrote a blog that was meant to be satirical and funny. In rereading it over the past day I don't think it's funny," Gunn wrote in a 2012 letter to GLAAD. "The attempted humor in the blog does not represent my actual feelings. However, I can see where statements were poorly worded and offensive to many. I'm sorry and regret making them at all."
David Ayer was the previous writer/director for the DC franchise. Bearing a similar premise to Guardians of the Galaxy (and let's not get bogged down in which came first in the comics*), the Suicide Squad are an anti-heroic team of villains who are forced to complete dangerous missions in exchange for reduced prison sentences. Modern incarnations of the team include Batman villains like Harley Quinn (Margot Robbie) and Deadshot (Will Smith).
Suicide Squad 2 is slated for release in 2019. Guardians of the Galaxy Vol. 3 is scheduled for 2020.
*It was Suicide Squad, which debuted in 1959 ten years before the first Guardians debuted in Marvel.