Chances Are James Gunn Won't Get Rehired for 'Guardians of the Galaxy'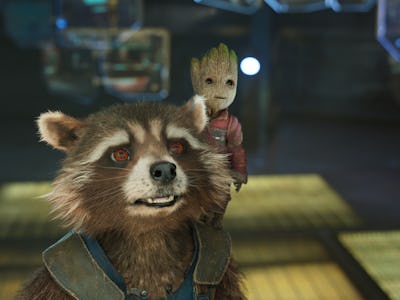 Marvel Entertainment
Just as James Gunn was an unlikely choice for the director's chair of Marvel's Guardians of the Galaxy, which became one of the biggest movies of 2014 and minted an unexpected franchise, it's unlikely that he'll be rehired to direct Vol. 3 after his firing, so Marvel's reportedly looking at another, unlikely sort of director to replace him.
On Wednesday, Variety reported from its sources that Disney is unwilling to rehire Gunn in spite of a grassroots campaign from both fans as well as the stars of the Guardians of the Galaxy movies. A source close to the matter told Variety: "I don't see Disney re-hiring him … Those tweets were so horrible and Disney has a different standard than other studios."
Variety further reports that Gunn's firing came from the highest echelons of Disney, approved by Disney Studios chief Alan Horn and Disney CEO Bob Iger.
A few weeks ago, alt-right conspirator and men's rights activist Mike Cernovich spearheaded an effort to unearth offensive tweets Gunn published almost a decade ago. (An example: "The Expendables was so manly I fucked the shit out of the little pussy boy next to me!") Although Gunn had already apologized for his offensive humor back in 2012, Disney still gave Gunn the axe.
Gunn, being a vehement anti-Trump tweeter, was targeted by Cernovich and his followers in an effort to own the libs with their own medicine, as right-wing personalities like Roseanne Barr have been blacklisted shortly after tweeting something offensive.
Not to get in the weeds of it, but there's a difference between tweeting really offensive jokes a decade ago for funsies (James Gunn) and spewing racially-charged garbage now (Roseanne Barr).
So who will replace James Gunn? It's a little early to tell, as Vol. 3 doesn't even have a definitive release date outside "2020." And rumored candidates from within the Marvel family, like Taika Waititi (director of Thor: Ragnarok) or the Russo Brothers (Avengers: Infinity War, Captain America: The Winter Soldier) are allegedly too busy to take up the gig.
Thus, Variety speculates that "there is a higher likelihood" that Disney/Marvel will tap a director elsewhere "with the kind of offbeat sensibility to handle" the Guardians of the Galaxy franchise. If you recall, "offbeat" was exactly the deciding factor that led Marvel to James Gunn in the first place.
At the same time, like any big studio, Marvel/Disney are also attracted to surefire bets. Variety says that sources claim Disney is "willing to wait until the right A-list filmmaker comes along," which definitely wasn't James Gunn when Disney hired him a few short years ago.
As of now, Guardians of the Galaxy, Vol. 3 is still scheduled to begin filming on February 2019.
Guardians of the Galaxy, Vol. 3 is still expected to hit theaters in 2020.