'Guardians' Director James Gunn Made Donald Trump a $100k Offer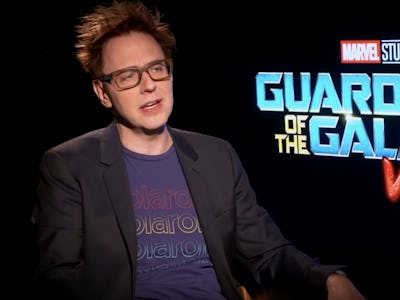 YouTube.com/Marvel Entertainment
Marvel's Guardians of the Galaxy Vol. 2 dominated the box office last summer with a worldwide gross of $863 million. So one could expect that the film's director, James Gunn, has a nice bank account with enough money to offer for charity, which he's done as a challenge to U.S. President Donald Trump.
On Tuesday, filmmaker James Gunn went on Twitter following the official release of President Trump's physical examination results. Officially, the six-foot-one Trump is recognized as overweight, weighing at 239 pounds and a body mass index of 29.9. To be legally obese, Trump's BMI would have to be 30.0. The hair difference has (mockingly) inspired a "Girther" movement, spoofing Trump's "Birther" movement against Obama when Trump was just a failed casino magnate, far away from the nuclear codes.
Unconvinced that Trump isn't obese, Gunn took to Twitter and issued the 45th President of the United States a challenge. "I will give 100 thousand dollars to Trump's favorite charity if he will step on an accurate scale with an impartial medical professional, okayed by both of us. For real," he said. He ended the tweet with the hashtags #Girther and #GirtherMovement.
Trump has yet to officially acknowledge the Marvel director's challenge, or even a favorite charity, and it's foolish to think he ever will, to be honest. Trump's involvement in charity has been spotty at best; in September 2017, the Associated Press reported that leftover funds from the total $107 million raised for Trump's inauguration ceremony had not yet been donated to any charitable organization. The Donald J. Trump Foundation, founded in 1988, has also been mired in controversy, with promised funds disappearing lending the organization an unfavorable reputation. In 2016, the organization admitted to self-dealing.
In a later tweet replying to a follower, Gunn said that if Trump doesn't accept the challenge, "or does it and loses," he will "give the money to other charities, including Planned Parenthood."