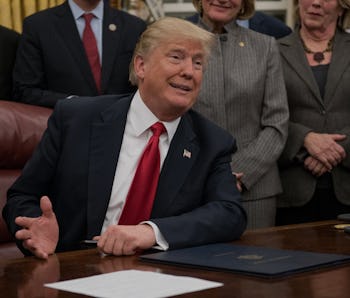 Science
President Trump Gets a Physical Today: Here's What We Know
Even the president has medical privacy.
Getty Images / Pool
President Donald Trump will receive his first physical exam as president of the United States at Walter Reed National Military Medical Center just outside Washington, D.C., on Friday. This routine activity has become the subject of intense public interest in light of perpetual speculations about President Trump's mental fitness that have circulated since he took office in January 2017. These speculations were reinvigorated by the publication of Michael Wolff's explosive book, Fire and Fury in January 2018. In the book, people within the White House are reported to be discussing the 25th Amendment, which provides a mechanism for impeachment if a president is mentally unfit to lead.
Here's the thing, though: A physical exam is not some sort of referendum on a person's mental health. The White House is adamant that a psychiatric exam is not part of the procedure, reports The Hill. Instead, President Trump will be examined for all the routine things that any 71-year-old man would be examined for: blood pressure, cholesterol, hearing, vision, heart health, hormones, vitamins, and so forth.
So what will we hear? Probably nothing. Or if we hear anything, it might not be reliable. While it is imperative that the president of the United States is given excellent medical care in the midst of the high-stress job, a president's physical examination is not always a matter of public knowledge. Sure, the White House released President Barack Obama's exam results in 2016 — conducted by the U.S. Navy's Dr. Ronny L. Jackson, the same person who will examine President Trump — but he was in great shape. There was no reason to believe that anything could be lost by revealing those details.
President Trump, on the other hand, may not be in very good health. At 6'3" and nearly 250 pounds, he is considered overweight. Couple that with the fact that he eats tons of fast food, drinks tons of Diet Coke, and doesn't believe in exercising, and it's likely that President Trump's physical won't depict a shining example of health. But we'll probably never know.
"I don't think they would say the president is depressed or has had a stroke and has memory issues and part of the reason they wouldn't do that is that it could imperil national security," Arthur Caplan, a medical ethicist at NYU School of Medicine, tells Vox.
Even if President Trump's physical reveals serious issues, the American public probably won't hear about them. Despite being one of the most public figures in the world, he's still protected by the same privacy laws as anyone else when it comes to his medical history.
So even though the president's mental health and temperament have been hot topics since before he was elected, his Friday physical probably won't shed much light on them.