One Marvel Star Found Upside to This Joker Movie Nonsense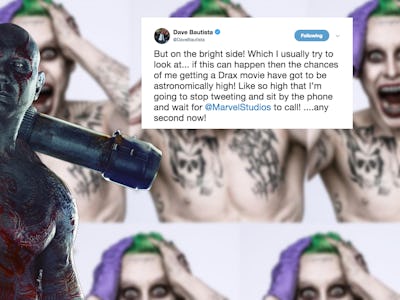 Marvel Entertainment, Warner Bros. Pictures
If you needed more proof that we have strayed so far from God's light, Warner Bros. has convinced Jared Leto to reprise his Joker from 2016's Suicide Squad in a standalone film all about DC's Clown Prince of Crime. It's a bad idea, of course, but one Marvel film star found a surprising upside to the whole thing.
On Tuesday, Dave Bautsita, an ex-WWE star who plays Drax the Destroyer in the Marvel Cinematic Universe, shared on Twitter his positive spin to the Joker news. To Bautista, if Warner Bros./DC is willing to give Leto his own Joker film, then maybe there's room for Marvel to green light a solo Drax film.
"But on the bright side! Which I usually try to look at…" tweeted Bautista, quoting Collider writer Steven Weintraub's tweet about Leto's Joker, "if this can happen then the chances of me getting a Drax movie have got to be astronomically high! Like so high that I'm going to stop tweeting and sit by the phone and wait for @MarvelStudios to call! ….any second now!"
James Gunn, the director of Guardians of the Galaxy, also tweeted at Bautista: "Just tried calling."
Bautista, you cinnamon bun of a mountain man. While the Joker's place in popular culture is a tad more prominent than Drax, who didn't become a household name until 2014's Guardians of the Galaxy, it's plausible that anyone with taste would sooner see Drax kick ass across the cosmos than Leto do whatever it is he did in Suicide Squad.
For what it's worth, Marvel already did the standalone Drax thing. In 2015, Marvel published an 11-issue series Drax, which was co-written by Cullen Bunn (Deadpool) and CM Punk, Bautista's friend and former in-ring rival. (The two once wrestled on WWE television in 2010.) In that series, Drax vows to hunt down and fight Thanos once and for all, mirroring Drax's motivations throughout his time in the MCU.
Sadly, there may not be as quite a groundswell for a solo Drax film, at least not yet. For now, we'll have to wait and see if Drax even makes it out alive after 2019's Avengers 4 to appear in Guardians of the Galaxy, Vol. 3.
Avengers 4 will hit theaters on May 5, 2019.