Dave Bautista's Rumored WWE Return May Be Bad News for Drax the Destroyer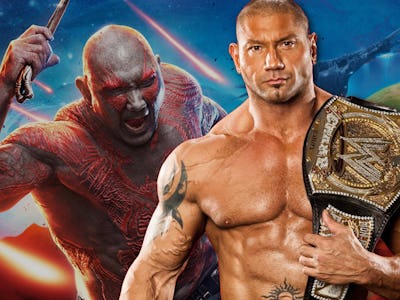 WWE, Marvel Studios
Before he was Drax the Destroyer in Marvel's Guardians of the Galaxy, Dave Bautista wrestled in the WWE ring as "The Animal" Batista. Bu,t the big rumor dominating the wrestling world is Bautista possibly gearing up for one final run as a WWE performer. However, Bautista's freedom to return to the ring may complicate Drax's future in the Marvel Cinematic Universe.
On Thursday, a user on Reddit's wrestling forum, r/SquaredCircle, shared a new report from Wrestling Observer Newsletter, a well-known weekly publication covering the pro wrestling and mixed martial arts industries. WON reports that Bautista is "very serious" about a WWE return, noting that unlike his last short stint in 2014, Bautista is projected to last "a relatively lengthy" span of "six months to a year." WON also notes: "He doesn't need to do it but it appears it's something he wants to do."
Although wrestling fans would surely welcome seeing "Batista" (no "u") body slam opponents again, his return may be an obstacle for his Hollywood career. Besides contractual conflicts between the WWE and any movie studio who wants to hire Bautista, injuries and insurance are also major factors. You can imagine film producers are unwilling to lose million-dollar stars to a wrestling match, a concern that essentially forced Dwayne "The Rock" Johnson to retire from wrestling for good in 2013.
If Bautista follows through with a WWE comeback in 2018, it's possible that it could spell doom for Drax, who will appear with all the other Marvel heroes in the biggest blockbuster fight of the year, Avengers: Infinity War.
As WON writes, "the problem is if you sign with WWE, they own your contract and if something comes along, the company wanting him will have to negotiate with WWE, which makes the deal more difficult." This means a studio like Marvel will have to undergo negotiations with WWE just to have Bautista.
2018's Avengers: Infinity War has wrapped filming, and the direct sequel, Avengers 4 (final title TBA), set for 2019, is shooting now. However, Guardians of the Galaxy Vol. 3, which has been confirmed by director James Gunn, has not yet entered production. Based on timing, it's Guardians of the Galaxy Vol. 3 that stands to lose Drax.
If it happens, it will be contracts, not Thanos and the Infinity Stones, that will kill Drax the Destroyer. But, hey — the hero has made it out of worse situations before.
Avengers: Infinity War will hit theaters on May 4, 2018.