Dave Bautista Tweets 'Blade Runner' Video, Continues His Amazing Twitter Account
The actor announcing his role on 'Blade Runner 2' is as great as the rest of his ridiculously fun Twitter posts.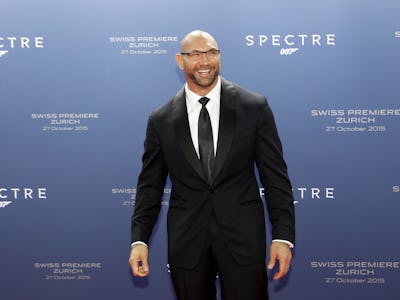 Getty/Michele Tantussi
While most of the world became acquainted with actor Dave Bautista when he played the brutish Drax in Marvel's pulp sci-fi extravaganza Guardians of the Galaxy, I was an early fan, back when he power-bombed puny opponents in the WWE. The pro-wrestler-turned-actor just announce that he's accepted a role in Blade Runner 2 directed by Denis Villeneuve in an adorable video on Twitter, which is just the latest from an absolutely golden, must-follow Twitter account.
The Blade Runner 2 confirmation is a thirty second video of Big Dave in a shirt, tie, and glasses — a different look than when he was "The Animal", or even a deacon — fanboying over his new role, ecstatic he'll get to play around in the sequel to Ridley Scott's epic sci-fi masterpiece.
Retired from wrestling since 2010 (with a brief return in 2014), Bautista has risen as a reputable Hollywood action star with roles in the James Bond film Spectre, the upcoming Kickboxer: Vengeance, and Marvel's Guardians of the Galaxy Vol. 2, which is currently in production. But know what you should really check out? His Twitter page. In between selfies with celebrities and intimidating training photos, Batista's knack for comedy and self-awareness earns him a must-follow from everyone, even if you don't know a suplex from a multiplex.
Don't believe me? Well, check out this time he tried telling a classic joke while in the hippest part of Brooklyn.
Not funny enough? Fine. Here's a breathtaking photo from his wedding last fall. And the only caption he could come up with?
Damn it, Dave! And it gets better: His wife, a professional pole dancer, clearly has his support. #What #ImVeryProudOfYou
Bautista is a legit tough guy, with a certified purple belt in Brazilian jiu-jitsu under Cesar Gracie of the Gracie dynasty. But that doesn't mean he can't make fun of that fact.
The big guy is also a gigantic nerd, a fact he wears proudly. He's an avid lunchbox collector, a Star Trek nut, and also can't pass up a good Blu-ray sale.
(Ew, Dave.)
Tweet a selfie at him. You'll never know what he'll do. This kid probably had no idea.
The Daleks are mighty, terrifying mutants from Skaro who have been at war with the Time Lords for millennia. But none of them could ever stand up to the guy who's wrestled with the Undertaker.
But while Hollywood is only just know getting to know Bautista, any wrestling fan could have told you Bautista can kick ass and make us laugh on the big screen. His brief but legendary tag team run with the late Eddie Guerrero was the stuff of comedy gold you can only find in the squared circle.
While us wrestling fans miss seeing the guy every week, we can't be selfish and let his talents go to waste. He'll be great in Blade Runner 2, if only because he's just a big fan too. Check out his Blu-ray binges. He was destined for it.