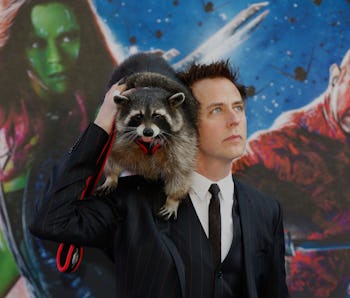 Entertainment
James Gunn is Writing and Directing 'Guardians of the Galaxy Vol. 3'
Getty Images / Tim P. Whitby
James Gunn, the man who more than anyone else helped propel Marvel's Guardians of the Galaxy from C-list heroes to beloved big-screen favorites, is officially coming back to write and direct the third film in the franchise. Gunn made the announcement on his Facebook page on Monday, just a few weeks before before Guardians of the Galaxy Vol. 2 premieres in theaters.
Gunn confirmed that there will indeed be a third Guardians movie back in March, but it wasn't until his Facebook post that he'd officially signed on to helm Vol. 3. As he explained in the post, there was reason to be hesitant. "There is a history in Hollywood of haphazard endings to trilogies, and I didn't want to become a part of that dishonorable tradition of pretending the third one doesn't exist," he wrote, saying that he only agreed to come back to sign on because he was truly passionate about finishing the job.
"So, yes, I'm returning to write and direct Guardians of the Galaxy Vol. 3," he states.
"In the end, my love for Rocket, Groot, Gamora, Star-Lord, Yondu, Mantis, Drax, and Nebula — and some of the other forthcoming heroes — goes deeper than you guys can possibly imagine, and I feel they have more adventures to go on and things to learn about themselves and the wonderful and sometimes terrifying universe we all inhabit.
Vol. 3 doesn't have a release date yet, though it will come out sometime after Infinity War, which premieres on May 4, 2018. An Infinity War sequel (originally billed as Part II) will debut the following May 3. Gunn wrote that Infinity War and Vol. 3 will be major turning points for the MCU.
"Much of what's happened in the MCU for the past ten or so years has been leading, in a big way, to the Avengers' Infinity War. Guardians of the Galaxy Vol. 3 will happen after all that," he wrote. "It will conclude the story of this iteration of the Guardians of the Galaxy, and help catapult both old and new Marvel characters into the next ten years and beyond."
Read Gunn's full post below.
Guardians of the Galaxy Vol. 2 hits theaters on May 5, 2017.