This "distinctly American" trend is causing life expectancy to plummet
Research shows "diseases of despair" are killing Americans in their economic prime.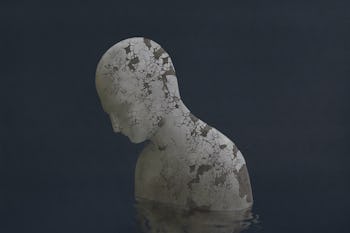 Shutterstock
Between age 25 and 64, many people are chasing career goals, creating families, traveling, and volunteering. Mid-life is often the most productive time of our lives, but new research shows working-age Americans are dying prematurely, especially in economically unstable regions around the country.
"Working-age Americans are more likely to die in the prime of their lives," Stephen Woolf, author of the study and researcher at Virginia Commonwealth University, said in a statement.
This impacts the personal and the practical, according to Woolf. The American workforce is dying prematurely, jeopardizing economic growth. In turn, children are losing their parents, and he says, "our children are destined to live shorter lives than us."
The expansive report published in the journal JAMA spans sixty years of data and all fifty United States, and reveals a jarring rural-urban health divide. Researchers used data from the Centers for Disease Control and the United States Mortality Database to analyze changes in life expectancy and mortality rates — how long people are predicted to live and die.
The team found that mortality rates have drastically increased across the Rust Belt, in places like Pennsylvania, Ohio, and Indiana, Northern New England, in Maine, New Hampshire, and Vermont, as well as Appalachian states like West Virginia, Kentucky, and Tennessee.
Loss of industry and economic instability since the 1980s has shortened people's lives in these states, while people are living longer in thriving economies along the Pacific Coast, the research shows.
The report follows other research illuminating the rural-urban health divide. A report from the Centers for Disease Control (CDC) showed Americans living in rural areas die more frequently from preventable causes than those living in cities. Both studies point to an overwhelming crisis in rural America that threatens the longevity of millions of working-class people.
According to the JAMA study, regional changes have caused a decline in overall United States' life expectancy, reversing decades of positive movement. In the latter half of the 21st century, U.S. life expectancy was on the up and up. Between 1959 and 2014, life expectancy jumped almost 10 years, from 69.9 years to 78.9 years. But starting in 2014, U.S. life expectancy declined for the next three years, falling behind increasing life expectancy of other countries around the world.
"The notion that U.S. death rates are increasing for working-age adults is particularly disturbing because it is not happening like this in other countries," Woolf said. "This is a distinctly American phenomenon."
"This is a distinctly American phenomenon."
With new innovations changing the way we treat diseases like cancer and lower rates of smoking, the United States' life expectancy reversal can seem confusing. However, Woolf and his team write that the rising death rates can be traced back to increasing rates of suicide, alcoholism, obesity, and the opioid crisis.
In economically depressed regions, people can suffer from "deaths of despair" caused by these behavioral health risks. People drink themselves to death, suffer fatal drug overdoses and mental disorders, or take their own life to cope with mounting stress, economic pressures, and lack of opportunity. Deaths of despair are threatening young and middle-aged people of all races in these regions.
The study also shows that mortality rates have increased for 35 causes of death, including a broad range of organ system diseases and injuries. High blood pressure, infectious diseases, alcoholic liver disease, and liver cancer are a few of the diseases plaguing working-age people.
The study's authors identify specific pain points that may also be contributing to these deadly trends such as deficiencies in the health care system, especially in rural communities, increasing anxiety and depression in young people, income equality, financial hardship, and lack of education. Improving these social determinants of health is critical to ensuring the longevity of all Americans.
People, Americans or otherwise, shouldn't be dying in mid-life.
Increased harm-reduction programs for safe drug use, more education around healthy eating, and early screening for psychological distress or problematic drinking patterns are just a few of the hundreds of solutions that could help fix the rural-urban health crisis.
Abstract:
IMPORTANCE US life expectancy has not kept pace with that of other wealthy countries and is now decreasing.
OBJECTIVE: To examine vital statistics and review the history of changes in US life expectancy and increasing mortality rates; and to identify potential contributing factors, drawing insights from current literature and an analysis of state-level trends.
EVIDENCE: Life expectancy data for 1959-2016 and cause-specific mortality rates for 1999-2017 were obtained from the US Mortality Database and CDC WONDER, respectively. The analysis focused on midlife deaths (ages 25-64 years), stratified by sex, race/ethnicity, socioeconomic status, and geography (including the 50 states). Published research from January 1990 through August 2019 that examined relevant mortality trends and potential contributory factors was examined.
FINDINGS: Between 1959 and 2016, US life expectancy increased from 69.9 years to 78.9 years but declined for 3 consecutive years after 2014. The recent decrease in US life expectancy culminated a period of increasing cause-specific mortality among adults aged 25 to 64 years that began in the 1990s, ultimately producing an increase in all-cause mortality that began in 2010. During 2010-2017, midlife all-cause mortality rates increased from 328.5 deaths/100 000 to 348.2 deaths/100 000. By 2014, midlife mortality was increasing across all racial groups, caused by drug overdoses, alcohol abuse, suicides, and a diverse list of organ system diseases. The largest relative increases in midlife mortality rates occurred in New England (New Hampshire, 23.3%; Maine, 20.7%; Vermont, 19.9%) and the Ohio Valley (West Virginia, 23.0%; Ohio, 21.6%; Indiana, 14.8%; Kentucky, 14.7%). The increase in midlife mortality during 2010-2017 was associated with an estimated 33 307 excess US deaths, 32.8% of which occurred in 4 Ohio Valley states.
CONCLUSIONS AND RELEVANCE: US life expectancy increased for most of the past 60 years, but the rate of increase slowed over time and life expectancy decreased after 2014. A major contributor has been an increase in mortality from specific causes (eg, drug overdoses, suicides, organ system diseases) among young and middle-aged adults of all racial groups, with an onset as early as the 1990s and with the largest relative increases occurring in the Ohio Valley and New England. The implications for public health and the economy are substantial, making it vital to understand the underlying causes.