The one Marvel movie you need to watch before it leaves Netflix in December
But there's a silver lining.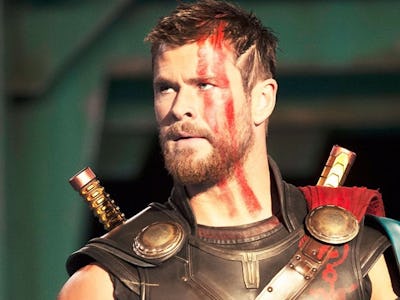 Marvel
The launch of Disney+ put an end to Netflix and Marvel's uneasy alliance, and the latest victim to their corporate breakout is one of our favorite entries in the Marvel Cinematic Universe so far. Mark your calendars, you've got until December 4 to watch (or rewatch) Thor: Ragnarok. Before you race home to stream everyone's favorite Thor movie, read on for a bit more context on why the best Thor movie is leaving Netflix so soon, and the silver lining that comes with this unfortunate news.
It's no secret that Netflix and Disney aren't on the best of terms. The media giants previously came up with an agreement to bring Disney, Marvel, and Pixar movies to Netflix following their theatrical and Blu-ray releases, making the streaming platform one of the best places to catch up on the latest adventures in the MCU. However, with the launch of Disney+, the House of Mouse essentially declared war on Netflix, ending the deal after a short period of overlap.
We're now living through this painful era. While most of the MCU movies are available on Disney+, a few recent entries are still missing. That includes Infinity War, Black Panther, Ant-Man and the Wasp, and Thor: Ragnarok. On December 4, Ragnarok will become the latest Marvel film to leave Netflix, showing up on Disney+ a day later on December 5.
So that's the good news. The other bad news, however, is that Disney+ is still buggy as hell. So you can expect plenty of lag and maybe even some awkward cropping once Thor: Ragnarok makes the streaming switch.
After that, you can expect the following Netflix departures as the remaining MCU stragglers migrate over to Disney+:
Black Panther hits Disney+ on March 4, 2020. So it should leave Netflix on March 3.
Avengers: Infinity War will stream on Disney+ starting June 25, 2020. Expect it to vanish from Netflix on June 24.
Ant-Man and the Wasp lands on Disney+ on July 29, 2020. So it should be leaving Netflix on July 28.
If you're keeping track at home, that means the entire MCU won't be available on Disney+ until July 29, 2020. By then, we'll have already seen Black Widow and be gearing up for Falcon and the Winter Soldier on Disney+, which launches that fall.
Directed by Taika Waititi (Jojo Rabbit, What We Do in the Shadows), Thor Ragnarok is considered by many to be one of the best (if not the best) movies in the Marvel Cinematic Universe. After hitting a low point in the Dark World sequel, Thor finally found is footing as a lovable doofus in Ragnarok, aided by Waititi's sharp humor and lots of colorful, over the top special effects.
And Jeff Goldblum never hurts, either.