Sony reveals a big reason the PS5 release will blow Xbox Scarlett away
PlayStation's biggest advantage over Xbox is only getting bigger.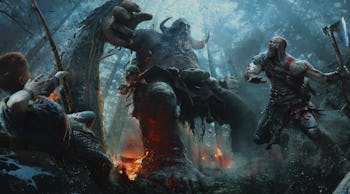 Sony
Sony Interactive Entertainment gave gamers another glimpse at the upgrades and new features that will come with the PlayStation 5 earlier in October. These early looks might have been enough to convince consumers to pick up a PS5 once it launches in late 2020. But now, Sony has given undecided console enthusiasts yet another reason to side with the PS5 over Microsoft's Xbox Project Scarlett.
The company has grand plans to further expand its star-studded library of first-party exclusives, said Sony's financial chief Hiroki Totoki during a quarterly earnings report Wednesday.
He used the August acquisition of Insomniac Games as a prime example of how continuing to bring developers under SIE's wing will continue to attract gamers to PlayStation. Insomniac's Spider-Man for PS4 sold 13.2 million copies worldwide as of July so it's only natural that Sony wants to carry that momentum to the PS5.
"The Sony strength lies in first-party content and [intellectual property (IP)]…Insomniac Games will become SIE's 14th studio and will contribute to further enhancement of our first-party software development organization," said Totoki. "Going forward, we will continue to pursue growth investment opportunities that will enhance our own content IP."
It's unclear what other studios Sony is eyeing for its next big acquisition, but looking to some of the most successful third-party PS exclusives could provide some insights.
What game studio will Sony acquire next?
A majority of Sony's most popular PS4 exclusives were already first-party titles, including God of War (2018), Horizon Zero Dawn, and the Uncharted series. But there are three third-party developers that have produced hit games for the PS4 that could be some contenders.
Japanese studio FromSoftware is responsible for the Dark Souls series and created the gory RPG Bloodborne, which was published by Sony in 2015. The action game received stellar reviews across the board. Its success coupled with Sony's need to release high-profile exclusives has essentially secured the eventual announcement of Bloodborne 2 for the PS5. Sony might just lock down the developer altogether.
Next up is Quantic Dream, that's responsible for three unique interactive dramas: Heavy Rain, Beyond: Two Souls, and Detroit: Become Human. All three of these titles were exclusively for PlayStation consoles and PC and received mixed reviews but were praised for their distinctive storytelling and make-your-own-choice mechanics that made them more like films the player can influence.
Finally, Japanese studio Atlus best know in the U.S. for its Persona series has a deep-rooted relationship with both Sony and Nintendo. Sony might want to move to secure the rights to the popular RPG series, but Atlus has so much success working with multiple publishers that it's the least likely to be acquired by Sony out of the three.
What PS5 exclusive could come first?
For now, Sony has revealed that Bluepoint Games, a Texas-based SIE subsidiary, is cooking up a banger for the PS5's launch. The studio is best known for leading acclaimed remasters of Shadow of Colossus, Uncharted: The Nathan Drake Collection, and the God of War Collection for PS3.
That leads Inverse to believe that it might be getting ready to launch a definitive collection of all four God of War games or a bundle of Shadow of Colossus and Ico, another action-adventure game Shadow of Colossus is loosely based on.
There's still a little over a year before the PS5 comes out, which leaves a lot of room for speculation. But rest assured, the console won't be lacking in big-name games.
The PlayStation 5 will be released late in 2020.