Inverse Daily: A former asteroid gets a major promotion
Our solar system may have a new candidate up for the position of smallest, and possibly most adorable, dwarf planet.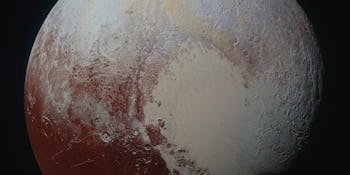 Before you look at this slightly odd image of a shirtless Norman Reedus in the Death Stranding video game, get caught up on the most essential science and tech news of the day below.
We've got a piping-hot review of the new Amazon Echo Buds, a precise location of the birthplace of humanity (book your airplane tickets now), an award for smallest dwarf planet in our solar system, and great news for people (like me) who are fascinated by the Tesla solar roof.
I'm Nick Lucchesi, executive editor at Inverse. Keep emailing your suggestions for how to make this newsletter better, and follow me on Twitter, where I retweet the best of Inverse during breaks in my day.
This article is an adapted version of the Inverse Daily newsletter. Subscribe for free and earn rewards for reading every day.
INVERSE QUOTE OF THE DAY
"I like finding weird stuff in space."
— Ray Villard, a researcher at the Space Telescope Science Institute in Baltimore.
Review: Amazon Echo Buds
On Monday, Apple announced it is going to release AirPods Pro ($249), and this morning, our review of a competing product that sounds even better — in the opinion of Input's Raymond Wong — was published. The Amazon Echo Buds sound better than Airpods, Wong writes:
"Echo Buds sound better than AirPods with clearer mids and deeper bass. The 'Power Hour' playlist of dance and tracks on Spotify is way more thumpin' through Echo Buds."
Read the full review, just posted this morning →
Go deeper:
Analysis identifies humanity's hometown on the modern map
Hometowns feel special. And according to one team of scientists, humanity can trace its roots back to one place in Northeast Botswana. Humans spent 70,000 years in a wetland that was once Lake Makgadikgadi, a paleolake that completely dried up about 10,000 years ago.
They argue that ancient humans called that place home until changing climate conditions increased rainfall in the area. This happened in two waves. The first, around 130,000 years ago prompted the creation of one "green corridor" that allowed humans to leave the ancestral homeland and go northeast. The second happened around 110,000 years ago, which caused humans to spread southwest.
Taken together, it feels nice to have an explanation as to where we come from: one "ancestral homeland." But this theory has been challenged: in 2017, 300,000 year old fossils discovered in Morocco suggested that there are multiple "homelands" for anatomically modern humans all across Africa.
See a map showing the precise location →
The more you know:
Input
It's time to upgrade the way you get tech news.
From game consoles to smartphone OSes to Apple's latest gadget, Input is all about what's coming next.
A former asteroid gets a major promotion
Our solar system may have a new candidate up for the position of smallest, and possibly most adorable, dwarf planet.
Passant Rabie reports that Hygiea, which is the fourth largest asteroid and located in the asteroid belt between the orbits of Mars and Jupiter, is up for a major promotion.
Due to Hygiea being extremely dim, this asteroid has been hard to observe from Earth. But a team of scientists managed to capture the first high-resolution observations of Hygiea, determining that it may in fact be a dwarf planet.
Dwarf planets revolve around the sun and are spherical in shape. The latest observations confirmed that it does have a sphere shape, making it qualify for dwarf planet status. The most controversial dwarf planet candidacy debate occurred more than 10 years ago, when Pluto was downgraded from the smallest planet in our solar system to a dwarf planet, much to the dismay of fans of the celestial underdog.
More big stories about dwarf planets:
Sunday Scaries
Beat the "Sunday Scaries" with a weekly newsletter that mixes soothing science and relatable advice to get your mind & body ready for the week ahead.
Super-deep diamonds suggest a hidden ocean
While diamonds are most famously used to adorn jewelry, scientists have an entirely different reason to adore them.
In the celebration of a 10-year research project, the Deep Carbon Observatory program has released its top ten findings from a collaborative effort over the years that has included 1,200 scientists and spanned 1,400 papers.
Their findings focus on the mysteries hidden within these tightly packed carbon beauties and helped researchers learn about hidden oceans, the first movement of tectonic plates, and a huge subterranean biosphere of microbes and bacteria.
The deep diamonds scientists are focused on might not be the most beautiful or have the greatest sparkle, but their value is immense nonetheless.
More diamond science:
Tesla solar roof gets an upgrade
Tesla's solar roof is getting an upgrade. The third-generation roof, unveiled last week, brings a number of welcome changes to the elusive energy tiles that should bring them to more homes faster.
The tiles are now bigger, pack greater energy density, and should hide their solar cells better than before. They should also be faster to fit, with Tesla planning to host roofing races to see who can fit a roof faster. The company is also planning to work with third parties to install the roof, a marked change from its electric car model where it exclusively sells direct to consumers.
Perhaps crucially, the price is cheaper, with one independent analysis showing a 40 percent price drop for the same roof.
The solar roof remains one of the most visible examples of Tesla's clean energy strategy in action, and the attention-grabbing design — notable for the fact it doesn't look much different from a regular roof — has captured onlookers' imagination.
Two top-performing Tesla Solar Roof stories from the archives:
Meanwhile …
Inverse Loot
Subscribe to Inverse Loot and learn about these deals first.
That's it for this morning.
May the rest of your day be as satisfying as nailing a pop shove-it up six stairs at cruising speed.
P.S. If you're behind on your Inverse Daily Rewards, just search your inbox for any emails that you may have missed. New prizes Friday!