'Overwatch 2', 'Diablo 4', and more huge leaks ahead of Blizzard's big show
Blizzcon 2019 might be overflowing with big announcements.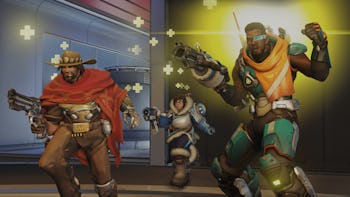 Blizzard
Blizzcon 2019 is rapidly approaching and a flood of reputable leaks has washed over the internet revealing an absolutely stacked agenda of new titles set to be debuted at Blizzard Entertainment's annual gaming expo, including the long-awaited Diablo 4 and the highly anticipated Overwatch 2.
Last week, the company published the Blizzcon 2019 schedule that contained teasers of what could be nearly four hours of surprises, but with no indication of what they could be. But over the weekend a flurry of new Overwatch 2, Diablo 4, and World of Warcraft information spread like wildfire, further fueling rumors that this Blizzcon could be a showstopper.
The event will commence at 2 p.m. Eastern on November 1 at the Anaheim Convention Center in California. All eyes will be on the Overwatch team, who is widely anticipated to announce a sequel to the popular team-based shooter. Plus, Diablo fans will be expecting a lot from the dungeon crawler after last year's disastrous Diablo Immortal announcement.
All of the reports and alleged leaks at this point suggest that Blizzard is ready to step up to the plate this year, which what it will need to look ahead and move past what has been a tumultuous 2019.
The company laid off hundreds of employees in February, its found and CEO Mike Morhaime along with other top executives quit in October, and Blizzard found itself in a public relations incident after banning a professional Hearthstone player from competition because he called for Hong Kong's liberation during a live stream.
A Blizzcon chock full of massive game announcements could rile up the company's millions of fans to look forward to the year ahead. Here's an early look at what will likely be in Blizzard's playbook come November 1.
Blizzcon 2019: Overwatch 2 leaks
Overwatch 2 will be announced with at least one new hero, new multiplayer game modes, maps, and refined PvE features, according to a Sunday report by ESPN's Rod Breslau. The outlet got its hands on a a Blizzcon training document, which also revealed the PvE story and new game mode will be available to play at Blizzcon but there was no mention of a release date.
The PvE mode was said to include "in-game items" and individual "hero talents" for each character. One of the cooperative missions will be a four-player story mode that takes place in Rio De Janerio, Brazil.
A new multiplayer game mode called "Push" that's set in Toronto was also included in the document. The report didn't go into the gameplay specifics but it could possibly be a tug-of-war type game where two teams battle to move a payload all the way to their opponents' end of the map.
The ESPN report originally stated that Overwatch's 32nd hero would be Echo, a robot featured in the game's lore that has long been rumored to eventually be made into a playable character. But Breslau later removed the mention of Echo and tweeted that it was likely untrue.
The same day Breslau's report came out, three allegedly leaked screenshots of Overwatch 2 surfaced on Reddit. Their source is unknown and their legitimacy has been called into question, but they claimed to reveal that Sojourn will be new hero and provide more details about the hero talents ESPN mentioned.
A headshot and back view of Sojourn made up a majority of the images. She's appeared in snippets of Overwatch lore through the years and has also been rumored to be a prime choice for the game's next hero.
The third image features what could end up being Tracer's talents in Overwatch 2's new PvE game mode. It shows off six power-ups that Tracer will gain as she levels up by completing PvE missions. If these are accurate, Inverse expects them to be limited to the PvE mode. Adding them to the game's PvP modes could seriously skew the hero balance.
While the details included in these images are exciting, a few of the animations in them are suspicious. Lucio's neon hair in the image that includes Sojourn's back doesn't seem poorly animated, but these could be early test renders.
Either way, it's looking like Overwatch 2 will be the headliner for Blizzcon 2019.
Blizzcon 2019: Diablo 4 leaks
Yet another Diablo 4 leak has made the rounds further adding to the mounting evidence that the dungeon crawler's next installment will be debuted a Blizzcon.
This time a full page of the previously leaked "The Art of Diablo" book was revealed. It features a new boss, Lilith, who appeared briefly in Diablo and Diablo 2. She will be a fully fleshed out boss in Diablo 4, according to a screenshot of one of the book's pages.
"Lilith's debut in Diablo 4 is a reimagining of her form that is far different from her previous appearance," reads the excerpt.
A new Diablo game couldn't have come any sooner. Many fans expected the reveal last year, instead Blizzard launched Diablo Immortal, which was met with overwhelmingly negative reactions.
Blizzcon 2019: World of Warcraft: Shadowlands leaks
Finally, an image of the next World of Warcraft expansion might have also been revealed by two promotional images floating around Reddit and Twitter. These alleged leaks are the thinnest and least convincing out of them all.
The images reveal that the expansion could be called World of Warcraft: Shadowlands, new explorable territory named "Bastion," and that Bolvar Fordragon, the current Lich King, will return.
While the logo for the expansions seems legit, the art and wording included in the posters are shaky. For one, Fordragon's eyes were turned a yellowish-red after he became Lich King but they're blue in the image above. Secondly, the phrase "discover new abilities!" seems a bit awkward. But a new expansion announcement isn't out of the realm of possibility.
Expansions typically last two years before a new one is released. Battle for Azeroth was released in August of 2018, so Shadowlands could be announced at Blizzcon and launched mid-2020. Plus, in a 2018 interview with Polygon Steve Danuser, WoWs senior narrative designer and lead artist Ely Cannon teased that Fordragon would soon make a comeback.
The images posted on Reddit might have been faked to reflect that interview, but Battle for Azeroth more than halfway through its expected lifecycle, now could be the time to build hype around what's next.
Blizzcon 2019 is looking to be a total blowout this year.