What furious gamers are saying about Blizzard's ban of pro-Hong Kong gamer
"I think it's my duty to say something about the issue."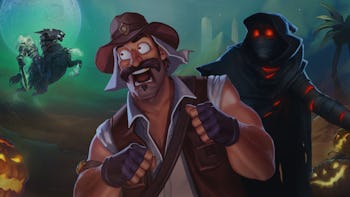 Blizzard
Chinese politics were introduced to the world of video game esports this week, and tons of gamers are so angry at Blizzard that they're calling for people to boycott the company's games like Overwatch and Hearthstone as a result. Many see it as a gross restriction of free speech and are roasting Blizzard over social media. Even employees within Blizzard staged a walkout in protest. But why?
On Tuesday, Blizzard banned professional Hearthstone player Chung "blitzchung" Ng Wai from competition because he called for Hong Kong's liberation during a live stream after a match on Monday.
Blizzard's official reason for banning him is because he broke a rule prohibiting players from saying anything that "offends a portion or group of the public."
Yes, blitzchung broke a rule when he appeared on a Taiwanese broadcast wearing a gas mask and said, "liberate Hong Kong, revolution of our time," the slogan of the Hong Kong protest movement. 
The reality of this situation, however, is far more complex in a way that transcends a simple rule devoted to preserving Blizzard's public image.
As punishment, Blizzard stripped away all of blitzchung's prize earnings in the current competitive season and banned him from all competition for the next year. The company even fired the casters who hosted the program on which he appeared. A direct stance against blitzchung in this case feels like a direct stance against the protestors in Hong Kong, who are champions of the city's ongoing independence from mainland China. The protest movement also supports the development of democracy in the communist nation.
While not technically a sovereign state, Hong Kong essentially operates as such. So when the Hong Kong government introduced a bill over the summer that would've allowed for the extradition of criminals in certain circumstances to mainland China, it seemed to be setting a dangerous precedent that could lead to broader restrictions of freedom in the future. That's how the protests began, but they've evolved into what feels a lot like a democratic revolution.
In a statement to esports news site Inven Global, blitzchung spoke about having a feeling of social responsibility:
"As you know there are serious protests in my country now. My call on stream was just another form of participation of the protest that I wish to grab more attention. I put so much effort in that social movement in the past few months, that I sometimes couldn't focus on preparing my Grandmaster match. I know what my action on stream means. It could cause me lot of trouble, even my personal safety in real life. But I think it's my duty to say something about the issue."
He's not the only person with a platform using it as an opportunity to make a statement. Popular caster Brian Kibler, who was scheduled to host events at BlizzCon including the Hearthstone championship matches, stepped down, saying in an official statement that it felt like Blizzard's decision was meant to appeal to Chinese officials outraged by blitzchung's comments.
"That kind of appeasement is simply not something I can in good conscience be associated with," he wrote.
This week has been a social media whirlwind, with plenty of gamers calling for a #BoycottBlizzard campaign.
Mei, a Chinese climatologist and playable character in Blizzard's Overwatch, has suddenly become an anti-Blizzard, pro-Hong Kong symbol of this movement. The memes are pretty good too.
The Hearthstone subreddit has seen "unprecedented, overwhelming traffic," the moderators said in a post. One redditor pointed out in a different post that even after several days, the only apology or statement made by Blizzard was to China, which many read as a political decision.
Many Americans take free speech for granted, but it becomes a controversial topic when it's brought into a global perspective. While the entire situation is a lot to take in, most fans and commentators agree that Blizzard — an American company — needs to be held accountable for not standing in support of free speech.