Leak suggests 'Diablo 4' announcement planned for Blizzcon in early November
Blizzard fans expect big things after an underwhelming announcement last year.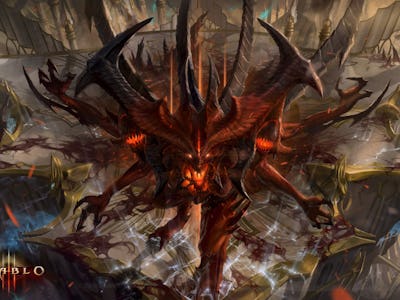 Blizzard
Blizzard will kick off BlizzCon 2019 — its annual gaming conference in Anaheim, California — on November 1. The event is widely anticipated to be where the company announces a sequel to its team-based shooter, Overwatch. But a credible leak has potentially revealed that Blizzard plans to announce the next installment for its dungeon crawler Diablo next month.
The latest issue of German magazine GameStar included an advertisement for an upcoming "The Art of Diablo" book, which mentioned the unannounced Diablo 4. Its description stated it would include "over 500 artworks from Diablo, Diablo 2, Diablo 3 and Diablo 4."
An image of the page in the magazine has been shared across Twitter and Reddit. While it doesn't specifically mention that Diablo 4 will be announced at BlizzCon 2019, the book's release date provides another hint of that possibility.
It's currently available for preorder on Amazon with a set release date of November 3, the same day BlizzCon 2019 ends. If it does include Diablo 4 artwork, Blizzard would naturally want to announce the game at the event to build hype around its launch and the book. Plus, a Diablo 4 teaser could serve to appease frustrated fans from the disastrous announcement of the mobile game Diablo Immortal at last year's BlizzCon.
Many fans expected the reveal of a new Diablo game last year, instead Blizzard launched Diablo Immortal, which was met with overwhelmingly negative reactions. The mobile game's announcement sparked numerous memes mocking the title.
Blizzard has since said it has "learned lessons" from the public face-plant. An over-the-top launch for Diablo 4 could be a way to make up for last year's disappointment. Both Diablo 4 and Overwatch 2 are expected to be announced at the event, so Blizzard fans should be prepared for big news very soon.
BlizzCon 2019 will begin on November 1 and run until November 3.