The 5 scariest 'Chilling Adventures of Sabrina' episodes for Halloween
From sinister to downright spine-tingling, these episodes are the best way to celebrate All Hallow's Eve.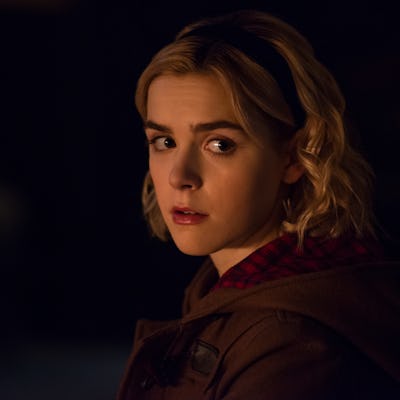 Diyah Pera/Netflix
It's been nearly seven months since Netflix dropped Part 2 of its spellbinding series, Chilling Adventures of Sabrina. Unfortunately, there won't be a new season to frighten and excite us in time for Halloween.
But fret not, witches. We've come up with a curated list of the most chilling highlights (pun intended) from Parts 1 and 2 to get your blood curdling this Halloween weekend.
Let's dive in, shall we?
This is a recreation of a segment from Inverse's Multiverse newsletter distributed October 24. Subscribe for free to get weekly streaming recommendations.
"My name is Sabrina Spellman, and I will not sign it away!"
Season 1, Chapter 2: "The Dark Baptism"
Every young witch and warlock belonging to the Church of Night has to sign their name in the Book of the Beast on their 16th birthday. The same goes for Sabrina Spellman (Kiernan Shipka), a part-witch, part-mortal, whose birthday falls on Halloween. (There's some pretty awesome costumes on display at the Halloween party in this episode.)
Sabrina's refusal to pledge allegiance to the Dark Lord shifts the series away from a wholesome teen drama in the charming town of Greendale and deeper into the world of dark magic and devil worship. It's a stunning introduction to this fantastical multiverse where everything is as terrifying, or more so, than it seems.
"Oh, I haven't been this drunk, you know, since Queen Victoria's coronation. I woke up on the bank of Thames."
Season 1, Chapter 5: "Dreams in a Witch House"
Considered a standout bottle episode, this is the first time we're introduced to the world of deliciously malevolent demons.
Sabrina's impulsive decision causes a vengeful sleep demon named Batibat to be released into the Spellman Mortuary, where she puts a sleep curse on the Spellmans. It's gothic horror at its most fun. The family of witches are each tortured by Batibat in their own unique nightmare.
Does it move the story forward in any notable way? Not really, but it's these standalone episodes with uniquely horrifying ideas that make for a frighteningly good time.
"All right then. Get me a bit of her hair and I'll make all her teeth fall out."
Season 1, Chapter 6: "An Exorcism in Greendale"
Like the name suggests, this episode is a nod to 1973's horror classic, The Exorcist, and it does not disappoint.
Sabrina is playing fast and loose with dark magic when she decides to exorcise a demon out of Susie's Uncle Jesse.
He tortures Susie, Roz, and Harvey with their deepest insecurities, wreaking havoc on everyone's emotions. With the help of the delightfully manipulative Ms. Wardwell (Michelle Gomez), Sabrina is able to perform one of the more elaborate spells we've seen her conjure up.
"I plumbed the depths of their tiny minds, plucking all sorts of juicy tidbits."
Season 2, Chapter 15, "Doctor Cerberus's House of Horror"
A mysterious stranger settles in at Cerberus Books for the day to do some harmless Tarot card readings for the residents of Greendale, bringing us into little vignettes of the world gone bizarrely wrong in a way that's deeply reminiscent of Batibat's nightmarish escapades.
The entire episode is a blurred line between fact and fiction as Sabrina and crew are forced into a distorted reality that embellishes their worst fears in what feels a lot like psychological torture. Each character's fears personified are wildly different, but each of them is uniquely unsettling.
"I'm a pawn in the Dark Lord's perverse, sick game … again."
Season 2, Chapter 19, "The Mandrake"
A menacing Sabrina double wreaks havoc on Greendale after the real Sabrina casts a risky spell to put distance between herself and the Dark Lord. This happens after she's anointed the "Herald of Hell" and bringer of the apocalypse, and the double is part of a last-ditch effort to avoid the prophecy.
The woeful surprise here is that even this is all part of Satan's greater plan to open the gates of Hell, but not before we all have a lot of fun watching actress Kiernan Shipka do weird things as the double, flexing her acting talents navigating the creepier double's personality, at once clingy, vapid, and menacing — not to mention super powerful.
Both Parts 1 and 2 of Chilling Adventures of Sabrina are available for streaming on Netflix.