'Sabrina' Season 3 Production Designer Teases New Monsters From Mythology
Lisa Soper offers an inside look at the show's unique approach to terrifying creatures.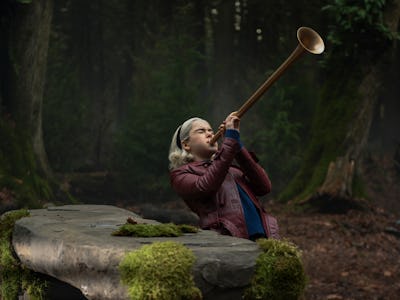 Netflix
The world of Netflix's Chilling Adventures of Sabrina already includes characters based on real folklore, like Asmodeus, Batibat, and Gryla to name a few, but when the show returns for a third season, fans can expect all manner of terrifying new creatures ripped from the pages of history, mythology, and literature. Series production designer Lisa Soper tells Inverse there are no limits to what kinds of supernatural beasts they might use, as production on Season 3 kicks off soon.
"Anything off-limits? So far I haven't hit that," Soper said when asked how the show incorporates new creatures and characters. "Some of these monsters that are going to be coming up in Part 3, we're going to recognize from history and we're going to recognize from mythology, but we're going to have very different twists on them and a very different look."
Since the very beginning, Chilling Adventures of Sabrina has looked to real-life pagan rituals, witch-related superstitions, and various mythologies to inform the Church of Night's rituals and the demons that orbit around Sabrina Spellman's town of Greendale. Season 2 even adapted Oscar Wilde's immortal Dorian Gray into an ancient club-owning warlock imbued with permanent youth. Soper also hinted that Dorian's minor role was a prelude to even more exciting adaptations of classic characters fans will recognize from elsewhere in Season 3.
"What does this thing look like in Greenvale? What does this look like in our world? What does this look like today?" Soper asked, teasing their approach to adapting a new character or creature. "Being able to see things from literature, mythology, or history, and making it something that people can relate to today is very exciting to me moving forward."
Soper also mentioned the importance of practical effects in bringing these ideas to life. "That's one of the things I think really makes our show different, is that we have these creatures and characters that are physical and tangible," she said, citing the practical designs used to create Amalia, warlock Nicholas Scratch's werewolf familiar who shows up wearing a dress in Season 2.
Like many of the show's detailed creatures, Amalia's look is practical and a product of collaboration between the costume and makeup departments.
"We came up with putting Amalia in this beautiful Victorian dress," Soper said. "That's not really something that's been seen before, and it's very important — something that's very much our own."
The production team brainstorms innovative ways of showing sometimes familiar creatures and supernatural phenomenon, less for budgetary reasons and more so the show can continue showcasing design choices that are uniquely Sabrina and totally real. Soper credits the excellent work of Amazing H, a makeup cosmetics company, for their work on creature design.
"This is the style that we're after," Soper said. "When you look at CG fire or CG morphing of characters changing, it tends to get very tiresome and campy. Eventually, you don't surprise your audience anymore."
In the Chilling Adventure of Sabrina pilot, Sabrina describes her hometown of Greendale as a place "where it always feels like Halloween." That's not just because of the monsters. Soper revealed that the production team achieves this effect by utilizing color theory. Tones shifted in Season 2 to reflect Sabrina's descent into darkness, and Soper said those tones would continue to evolve moving into Season 3 as the energy and dynamic of the series changes over time.
"If we kept that same palette and that same tone of Halloween, with all those fantastical creatures and magical elements that make Greendale what it is, then there was a consistency of tone there to base everything off," Soper said.
Most of the series uses autumnal hues of brown, dark red, and especially orange for costumes and set design. These are emblematic of Greendale itself, but as the show explores new towns in Season 3, drastic shifts in the color pallet will make them feel distinct.
"We still kind of latched on and held on to that perpetual autumn feel in Season 2," Soper said. "Going into the next one, I think we're going to play around a little bit differently with different tones, but it's still kind of trying to keep true to a single season of the year."
In other words, you can expect more of the same spooky production design as Chilling Adventures of Sabrina expands its universe with new monsters in Season 3, all unified by a consistent tone in production, costume, and creature design. Beyond that, the series is already confirmed for a Season 4.
Chilling Adventures of Sabrina Season 3 is expected to hit Netflix late 2019.