Inverse Daily: What do anti-vaxxers and Christopher Columbus have in common?
Sure, you may have been taught in elementary school that Christopher Columbus "discovered" the Americas, but at this point, most of us have learned the true story.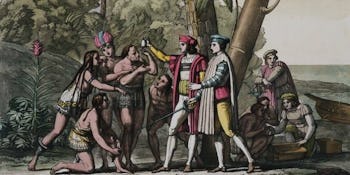 Good Monday morning, Inverse Daily readers! After seeing Joker over the weekend, I thought a lot about this quote in a recent interview we did with the movie's costume designer about the suit worn by Arthur Fleck. It's a thought-provoking read. After you check out the mind-expanding stories on science and tech below, read the interview here.
Please keep the feedback coming on how to make Inverse Daily better, and follow me on Twitter where I retweet the best of Inverse.
This article is an adapted version of the Inverse Daily newsletter. Subscribe for free and earn rewards for reading every day.
INVERSE QUOTE OF THE DAY
"We basically said, 'OK, there are two major issues we have to face. We have to get rid of fossil fuels, and we have to deal with too many cars on the road.'"
— Laurin Hahn, co-founder of Sono Motors. Read more in our new Future 50 feature story.
What do anti-vaxxers and Christopher Columbus have in common?
Sure, you may have been taught in elementary school that Christopher Columbus "discovered" the Americas, but at this point, most of us have learned the true story: North, South, and Central America were home to unique and flourishing societies and cultures, and Columbus' arrival kicked off an age of conquest. His "discovery" was the beginning of the end for many long-lived peoples, and Europeans' search for power and wealth around the globe brought violence and disease to distant shores.
Along with weapons and greed, Columbus also brought measles to the so-called New World, which swept through Native American populations like wildfire.
And while this all happened over 500 years ago, the legacy of Columbus has reignited in the form of anti-vaccine activists, whose misguided educations are needlessly exposing a new generation of vulnerable individuals to sickness. Read more.
Go deeper:
Four Loko has way more alcohol than many think
The reformulated, caffeine-free Four Loko may not provide the same buzz that once inspired descriptions like "pure evil" or "insane on every level," but five years after the 2014 reformulation, researchers are still concerned about it. People still appear to have no idea what they're in for when they pop open a can, and that ignorance may be traced back to a detail on the label.
In this study, lead author Matthew Rossheim, Ph.D., of George Mason University, has shown that students "grossly underestimate" how much alcohol is actually in a can of Four Loko. Read the full story here.
Related stories:
Shrinking glaciers: Mont Blanc from the air, 100 years on
We know glaciers are melting rapidly, but it can be hard to make sense of what that actually looks like — especially when we know some areas are still mostly covered in giant ice sheets. New photos comparing Mont Blanc's current look with its form 100 years ago help to clear things up.
Back in 1919, a Swiss pilot and photographer flew a biplane over the Alps, taking pictures of the famous mountain region. Mont Blanc — literally "white mountain" — was then completely covered in snow. A century later, two researchers from the University of Dundee in Scotland took to the skies to take the "after" pics. The result? Empty mountain streams and lots more exposed rock.
The side-by-side comparison isn't the only set of photos that show melting over time. Researchers recently used spy satellite data from the Cold War to show glacier retreat in the Himalayas, and a striking photo of the Arctic captured by a Swedish photojournalist shows the area's severe glacier melt over the past century.
These side-by-side comparisons highlight the massive glacier loss in mountains around the world, much of it happening in remote places that most of us can't easily access. See the photos here.
The more you know:
Inverse Strategy
A newsletter packed with actionable tips to help you manage your career, life, and finances.
Soft, flesh-looking robot actuators will make bots more lifelike than ever
We sleep soundly knowing that most robots out there today are still too clunky or too slow to really bring on the apocalypse, but new research from the UC San Diego Jacobs School of Engineering has introduced a proof-of-concept design for robotic limbs that would be much more lifelike.
While other robot designs use cumbersome air and fluid pumps, these robotic limbs, called actuators, move using only electrical voltage. They are created by sandwiching a muscle-mimicking material between layers of heat-conducting wires and then rolling the resulting composite into "sandwich-like" cylinders. Tasty. These actuators are then able to bend and contract like human muscles and are much cheaper and easier to reproduce than their predecessors say researchers.
But … they're pretty slow. It can take up to six minutes for the electrical elements to heat up in order to create movement. The next hurdle, say researchers, will be speeding up this technology while keeping the cost and flexibility the same. Keep reading.
More robots:
Two friends are on a remarkable mission to disrupt driving
Laurin Hahn, 25, and Jona Christians, 26, believe the car of the future is solar-powered, shareable, and supplies energy to the home.
"Where we want to go is that every car on the street you see is shared and is electric," Hahn, who serves as CEO of Sono Motors, alongside Christians, tells Inverse. "And that means that you have to radically think of a new way of ownership, of driving, of the space in the city."
It's a project that came to life just seven years ago, when two high school students started chatting about the future. Sono Motors, a startup founded in 2016 with $13 million in funding, is set to start producing its first vehicle in the second half of 2020. Read their story.
Read more:
Today's good thing
Annabelle Padwick lives in the south of England and thinks gardening should be prescribed as therapy. "I'm a gardening and well-being based therapist. My aim is always to support people who are struggling with mental health, and to get people into gardening that may not be originally open to gardening." Read more about her inspiring story here.
Meanwhile …
Inverse Loot
Subscribe to Inverse Loot and learn about these deals first.
That's it for Monday's edition of Inverse Daily!
Send all thoughts on these stories and more to me: nick@inverse.com.
If you enjoyed this email, consider sharing it with a friend using the link below.