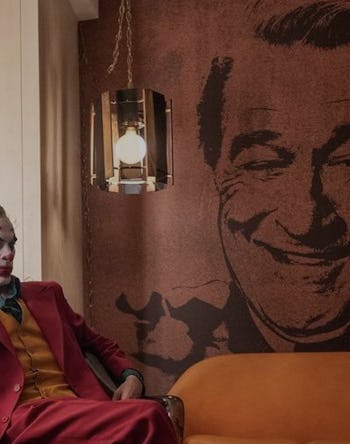 Entertainment
Why 'Joker's costume designer decided to ignore the comics entirely
"It all just seemed just a little too contrived for the kind of movie that Todd wanted to make."
Warner
All it took was a personal letter from director Todd Phillips for costume designer Mark Bridges to agree to work on Joker Phillips' gritty, controversial reimagining of the "Clown Prince of Crime's" origin story.
"He said that he wanted to collaborate with me, knew that I had worked with Joaquin two previous times, and thought we'd have a great ride with this," Bridges tells Inverse. "I was very flattered that Todd would take the time to ask me to join him."
Bridges has been a costume designer for three decades and won two Academy Awards (and a jet ski, which he donated). He's worked with Noah Baumbach, Paul Greengrass, David O. Russell, and on all eight films directed by Paul Thomas Anderson. But with Joker, Bridges faced what might have been his greatest challenge yet: creating a distinct look for one of pop culture's most iconic villains.
The Joker is one of the few comic book villains arguably as famous as the hero he clashes with, and one of the reasons he stands out among all of Batman's antagonists is how he's presented. From Jack Nicholson's 1950's pop art design, to Heath Ledger's now iconic punk rock-inspired look, to Jared Leto's much derided high fashion; how the Joker is dressed is equally as important as the man who puts on the face paint.
Prior to Joker's release, Inverse spoke to Bridges over the phone about his work on the movie, why he didn't bother looking back at the comics for inspiration, and why he didn't want to have the Joker prancing around in terracotta.
This interview has been edited and condensed for clarity.
Inverse: Seeing as this is a comic book movie and with it comes more scrutiny than you're used to, was there any hesitation at all in taking on this particular job because you would be designing the look of such an iconic character?
Mark Bridges: I was looking forward to it. I think it was all about Todd and the way he presented it as being a departure from what one would typically think of a comic book movie. It was going to be grittier, more urban, more based in a kind of reality than a series of magical events.
And I go from different genres all the time. I'll do a Noah Baumbach and then I'll do a Paul Thomas Anderson, and then I'll do Jason Bourne. So I'm always trying to do something that I haven't done before. So between Todd's passion, my love of working with Joaquin, and just wanting to try something new I was looking forward to it.
When people think of the Joker, they have a very clear idea of how he's presented: purple suit or jacket with either a green or yellow shirt. Was it always your intention to go in a different direction when it came to this Joker's presentation?
It wasn't always my idea. It might have been influenced by Phillips's attitude that this was a standalone story. That it wasn't connected to anything else. A lot of my choices were rooted in this character, Arthur Fleck, and also something Todd wrote in the script about Arthur owning a suit that he's had for years, which ultimately ends up being this joker suit.
So what made you decide to go with the kind of color scheme that the Joker ends up having?
I think it was written in the script that it was terracotta. But I felt like a more 1980's color was maroon and terracotta is more typical 70's. And it's not as strong. I think that reds are always more expressive. I think reds always communicate more emotion.
Joker marketing has focused on Joaquin when he's full on Joker, but I'm very interested in how you put together the clown for hire outfit we see him wear early on in the film.
The silhouette is very reminiscent of Charlie Chaplin – the size of the pants, the smaller jacket. My little conceit, I really love when a clown has a tiny hat on. So that was my little touch. Because as he's getting chased by the young gang, there's something kind of sad about the whole thing when all he's trying to do is make people happy, and he ends up getting beaten in an alley.
I wanted to try a bigger hat, a regular sized Derby in an homage to Chaplain, but then I thought that a miniature Derby is more my own taste, my own little miniature homage to Chaplin.
When I think about a character and I think about how would Arthur put together this outfit? My idea was that maybe that jacket was a 70s sport coat that he got off a thrift store, the shoes, very inexpensive, and certainly seen better days. The pants, he either saw a clown that he liked and then sewed patches on his pants or he got them off of a guy who got out of the clowns business and bought them for 20 bucks.
Did you look through any of the comics for inspiration?
No we had none of that. I did look online on what the Joker looked like when he first appeared in the '40s. It all just seemed just a little too contrived for the kind of movie that Todd wanted to make. We really weren't a DC movie -– we were a Warner Bros. picture shooting in New York: Our own standalone, Mean Streets kind of movie, as opposed to anything that had been done in the DC world before.
Even though this movie is about the Joker, for most of the film, we're with Arthur, someone who doesn't really have much fashion sense. But just because a costume isn't flamboyant, doesn't mean that there wasn't work put into it. So how did you approach the look of Arthur before he becomes the Joker?
My work is all about storytelling, so I wanted to make choices that spoke about who he was, his economic status, and how much he cares about how he looks. He's an invisible person, so the clothes became a little invisible. Not terribly expensive clothes, and not terribly stylish, they're more for practical purposes.
You've worked on many period pieces in your career: Los Angeles in the 1960s and 1970s, London in the 1950s. And now you're working on a Gotham City that's based on New York in the late '70s to early '80s. What research did you do to capture the time period?
There were some films Todd referenced, those wonderful anti-hero films that came out in the 70's, we looked at all of those. Man on the street photography, television and news reports; we looked at what the The Johnny Carson Show was like, what the The Merv Griffin Show was like, afternoon talk shows. It's really a collage of influences, heavy on the visuals and heavy on the flavor of that moment in time in New York, when it was just an uglier place.
Speaking of Johnny Carson and Merv Griffin, how did you approach De Niro's character of late night talk show host Murray Abraham?
What those men wore were good quality men's wear at the time, they were always impeccably tailored. I worked very closely with the production designer Mark Friedberg, because I knew that there was going to be very colorful show curtain, and we wanted Robert to be separate from that. The teal wool three piece that he wears, it's one of the colors we see in the show curtain; when we see him on TV, I had him in a white suit in front of that dark wood paneling. I think it worked out really well.
This is the third time you've worked with Joaquin Phoenix. He lost weight before, for his role in The Master, but for Joker, he's lost a considerable amount of weight. Did his transformation change how you approached working with Phoenix this time?
Well, you never knew when he was really hungry, if you know what I mean? You had to think twice about how you approached him (laughs). It was funny, because his body's evolving and we're trying to make things, and by the time you've made it, he's lost another eight pounds. So it was constantly like, "Oh, we might need to take this in a little more." I did notice he was really much thinner than The Master. He took it in stride with the discipline of a champion, but at one moment I was like, "I'm not sure my tailoring can keep up with your weight loss."
Working with the same actor on multiple occasions, does it make designing outfits for them easier? Because you know what fabrics and colors work for them?
It's always a reboot, because we're always creating a different person. I might know that they need an arch in their shoe or something, but other than that, it's a fresh new page in a fresh new notebook. But collaboration gets easier. It's not like you just met somebody and not sure who they are.
What are you working on next?
I'm in Santa Fe Right now. I'm working on a film with Tom Hanks called News of The World based on a Paulette Jiles novel. So it's another little departure for me.
Joker is in theaters now
Christopher Inoa is a freelance film and animation reporter. Follow him on Twitter for cool anime GIFs and more.