Ex-Rockstar artist teases "a couple" of secret games, fueling 'GTA 6' rumors
Rockstar is undoubtedly planning something big.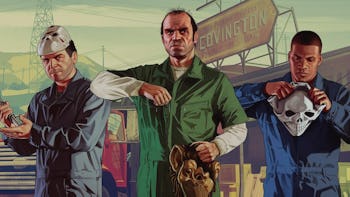 Rockstar Games
Grand Theft Auto VI is among one the most anticipated game releases at the moment, but it hasn't even been officially announced. Fans of the Rockstar franchise have relied entirely on anonymous sources and sketchy online leaks for potential morsels of information about the game. Now, a former Rockstar employee has teased that the publisher is working on multiple announced projects, one of which could be GTA 6.
Angith Jayarajan worked as a 3D animator at Rockstar's India studio from July 2017 until March 2018, according to his LinkedIn. Jayarajan currently works as a freelance artist, and in an interview with co-living startup StayAbode he revealed that he had help develop Red Dad Redemption 2 and a handful of other secret projects.
"I worked at Rockstar games," he said. "I worked on Red Dead Redemption 2 and a couple of games I can't name yet."
Jayarajan was short on the details, but the possibilities can be easily narrowed down by looking back at Rockstar's recent releases and most popular series.
Bully 2 is a likely candidate
Rumors and leaks regarding the sequel to Rockstar's 2006 cult classic teen adventure game, Bully, have been swirling online for months.
Most recently, two anonymous Rockstar insiders claimed Rockstar's New England studio was developing Bully 2 between May 2010 and late 2013. The report claimed developers had even built a playable demo for testing. But production was halted for unspecified reasons.
It's possible that the game was passed on to Rockstar India, which recently acquired a majority of holding of Dhruva Interactive, the oldest game developer in India.
At the time of the acquisition Rockstar India had roughly 500 employees, adding another studio to an already sizable team could be a sign of big things to come, including GTA VI.
GTA VI is likely in the works too
There's a plethora of compelling evidence that Jayarajan could have helped in the early development of GTA VI.
Rockstar India was established in 2016 and has only ever aided in the development of Red Dead Redemption 2. With more than 500 staff members, it's very plausible the studio is cooking up another installation of Rockstar's most iconic game of all time.
The only other possibilities could be a sequel to L.A. Noire, Max Payne 4 or a completely new franchise. But with the next-generation PlayStation 5 and Xbox Project Scarlett roughly a year away, a GTA that makes use of all the upcoming console hardware seems like a safe bet.
Rockstar hasn't released a standalone GTA installment since the launch of GTA V in 2013, but it has been steadily releasing DLC content for its online game mode. The L.A. Noire series also hasn't seen a major release since 2011, so that's also a possibility.
But GTA V Online was still pulling a reported 33 million active players as of August, almost six years after its debut.
The game's loyal fanbase and new consoles on the horizon all serve as evidence that GTA VI is likely under development. A few rumors suggest it could be released as late as 2026, but Rockstar might announce the title a few years in advance.
There hasn't been official word as to when that could be, but the company announced GTA V two years before it released. So gamers might hear what title will follow Red Dead Redemption 2 a year or two down the road.