7 possible PlayStation 5 launch titles, ranked from most to least likely
From Ellie and Joel to Kratos and Atreus, there's a lot of familiar faces we might see in 2020.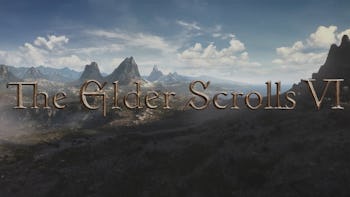 Bethesda
It's been a banner week for gaming fans, with Sony finally confirming to Wired that its next console will indeed be called the PlayStation 5, and will indeed be launched in late 2020. We'd all suspected as much for some time, particularly after Microsoft's Xbox Scarlett announcement back at E3 in June. But now we know a whole lot more about the PS5's spiffy new controller and quality-of-life upgrades. That said, the company has yet to share any details about the games that will launch alongside the upcoming system, ut that doesn't mean we can't make a few educated guesses.
Here are seven of the confirmed and rumored titles in development that could launch alongside the PlayStation 5 at the tail end of next year, ranked in order of likelihood from "inevitable" to "fingers crossed the devs can pull it off in time." Some of these are generation-straddling games, AAA titles due to arrive late in the PS4 lifecycle. Others are titles we know are in some stage of development, which would make a particularly compelling case for gamers to part with their hard-earned cash.
7. The Last of Us Part II
It wouldn't be a PlayStation launch without a killer Naughty Dog game. TLOU 2 comes to PS4 in February, which means there's plenty of time to add a new coat of graphical polish and perhaps some additional content to to Ellie's solo adventures. The first game was also a generation straddler, released in June 2013 for PS3 and later remastered for PS4 in 2014.
As of June 2018, The Last of Us had sold more than 17 million copies. The long-awaited sequel seems like a pretty safe bet to move a few million consoles at the PS5 launch. What's more, at least some hardcore fans will buy both the PS4 and PS5 versions of the game, particularly if there's a significant content expansion.
6. Ghost of Tsushima
Admittedly, we haven't seen much of this game since its initial, jaw-dropping reveal back at E3 in 2018. Remember that gently swaying pampas grass? That sunset swordfight spangled with falling maple leaves and flickering flames? When Sony still took part in E3? Sigh.
Set during the 13th-century Mongol invasion of Japan, Ghost of Tsushima stars protagonist Jin Sakima, who must adapt samurai fighting techniques with a more guerilla fighting style that emphasizes stealth. Expect a lot of awesome katana duels and stunning visuals. There's not yet an official launch date for this latest from Sucker Punch, but we wouldn't be surprised to see it launch simultaneously for both PS4 and PS5 sometime later on in 2020.
5. Death Stranding
No one totally knows what Death Stranding is about at this point, but we do know that this fully featured Norman Reedus simulator will allow you to virtually pee and includes music from Chvrches. Hideo Kojima's upcoming open-world adventure game sees protagonist Sam tasked with bringing together the fragmented inhabitants of a post-apocalyptic United States. Unless the game is an unmitigated disaster, which seems unlikely, this November 2019 release is likely to get a PS5 port with some spiffed up visuals and expanded story content.
4. Grand Theft Auto VI
Rockstar has yet to confirm that GTA 6 is in development, let alone provide a release date for the game. Despite that, rumors about the game have been circulating since December 2018, claiming the upcoming installment will return to Vice City and Liberty City (Rockstar's fictional imaginings of Miami and New York).
A recent leak claiming that Bully 2 was shelved 18 months into development and its team "reallocated to different projects" also seems to hint that we might see the next installment of the GTA arrive alongside the Xbox Scarlett and PS5 late next year. After all, with the exception of Red Dead Redemption 2, Rockstar hasn't put out a standalone game since way back in 2013.
3. God of War sequel or bundle
Arguably the best game of 2018, God of War showcased thrilling combat, resonant character development, and incredible world-building with its Norse mythology-steeped setting. It also left players wanting more, with several realms yet to explore and the tease of Atreus coming into his godly destiny. And we didn't even get to see Thor yet!
Sony's Santa Monica Studio has yet to confirm it's working on a sequel in any capacity, but given that God of War has sold more than 10 million copies, it seems like a no-brainer console seller for Sony. What's more, we know that Santa Monica was hiring a combat designer familiar with the God of War franchise earlier this summer. It's also possible we could see a bundle of the past entries in the series come PS5 launch day.
2. Elder Scrolls VI
Bethesda announced the long-awaited followup to Skyrim was in "pre-production" at E3 2018, and we've barely heard a peep about the game since. The developer was all about Wolfenstein: Youngblood and Doom Eternal at this year's gaming convention, but studio head Todd Howard said in August that ES6 was "a game we need to design for people to play for a decade at least." With that kind of scale in mind, Bethesda's next big RPG might be a long way away.
That said, Bethesda sold more than 30 million copies of Skyrim by 2016, well before the game launched on Switch or VR, and not counting mobile spinoffs like Elder Scrolls: Legends. With such a substantial following, fall 2020 seems like a golden opportunity for Bethesda to help sell a serious number of PS5s… and Xbox Scarletts, too.
1. Final Fantasy VII Remake Part II
From everything Square Enix has said so far (even though we might wish it were longer), Final Fantasy VII Remake will take place exclusively in Midgar. This means no galavanting around in the Tiny Bronco, no hot dates in Gold Saucer, and definitely no Chocobo racing.
There might be a good reason for this, beyond Square Enix's desire to torture Final Fantasy fans. PS5's solid state drive should, in theory, eliminate some of the glacial loading times that were a side effect of the large open world in Final Fantasy XV. Hopefully, bringing the world beyond Midgar to PS5 means it shouldn't take two to three minutes to "fast travel" from Kalm to Wutai. But given that it's already been five years between the first announcement of Remake and the March 2020 release date of the first chunk of the game, getting two FF7 installments within seven or eight months might be a bit of a pipe dream.
The PlayStation 5 will launch in the holiday season of 2020.