'Bully 2' cancellation rumors hint at sooner-than-expected 'GTA VI' launch
A glimmer of hope for Grand Theft Auto fans.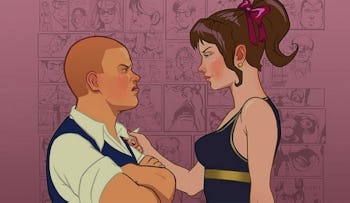 Rockstar
Rockstar Games has long been rumored to be working on a sequel to its 2006 angsty teen adventure title, Bully. The cult classic never quite picked up as much steam as the publisher's Grand Theft Auto or Red Dead Redemption series, but a recent report claims that Bully 2 was pretty far along in development before being shelved. That might come as a disappointment for diehard Bully fans, but it could mean the rumored GTA VI release date could be even closer than fans expected.
Two anonymous sources claiming to be Rockstar insiders told The Video Games Chronicle the company's New England division spent more than two years developing Bully 2. They claim the studio built a playable demo for testing, but production was halted for unspecified reasons.
Past rumors have claimed Bully 2 could be released in the next year or two. But VGC's sources could not confirm if Rockstar was actively working on the sequel. However, they did mention that the previous Bully 2 team was reallocated to different projects, which could mean GTA VI.
The report stated that the initial Bully 2 development took place between the May 2010 and the end of 2013. Red Dead Redemption 2 took eight years to complete, so a portion of the Bully 2 team could have been moved to support the 2018 Western's development. The sources also mentioned "other projects," suggesting that Rockstar was working on more than one game during mid-2013. Since the September 2013 launch of GTA V, Rockstar has only released Red Dead Redemption 2, while consistently updating GTA V Online.
Past Bully 2 developers could have been moved to a potential GTA VI team. Rockstar has yet to announce anything about the game, but with the PlayStation 5 and Xbox Scarlett on the horizon, rumors about the the next chapter in the series have been making the rounds online.
Everything we've heard about the next Grand Theft Auto suggests the game will be a riff on Netflix's Narcos, which multiple leakers have claimed is code-named "Project Americas". Alleged leaks have claimed the title will include the return of beloved in-universe locations, like Liberty City (fictional New York City) and Vice City (fictional Miami).
Speculation aside, if Rockstar has indeed shelved the Bully sequel, its next big release would naturally fall to GTA VI. The company has launched a new Grand Theft Auto for every console generation. There's no reason to believe this time will be any different.
It might be bad news for Bully fans, but the silver lining here is a glimmer of hope for anyone waiting for GTA VI.