'GTA 6': Rockstar Hints That a New Game Could Be Just Over the Horizon 
What could be next on the studio's agenda?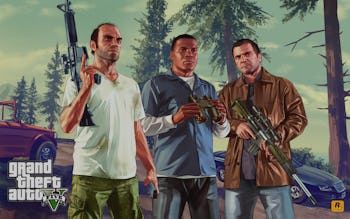 Rockstar / Grand Theft Auto V
Grand Theft Auto V blew the roof off of previous installments of the series, letting players roam a hyper-realistic recreation of Los Angeles with debatably three of Rockstar Games' most iconic characters. But GTA VI might once again take the franchise to a whole new level — and it could arrive sooner than expected.
There have long been rumors and leaks speculating about the setting, plot, and even release date of the game. But Rockstar dropped a major hint that it could be gearing up to announce its next big game release.
Redditor /u/mrweeks19 posted a photo of the Rockstar office in Edinburgh, Scotland on August 9 showing showed the publisher taking down a massive Red Dead Redemption 2 poster. Fans rushed to speculate what could take its place, with GTA VI and the long-anticipated Bully 2 being the two front runners. But there's evidence to believe that the next GTA could in fact be up next.
When Is the 'Grand Theft Auto VI' Release Date?
A now-deleted, landslide leak posted by Redditor /u/JackOLantern1982 on July 2 offered insights to when GTA VI could hit shelves. The game is allegedly still in its "pre-alpha" stage, there's no estimated time of arrival yet, and that it will only be available on the next-generation PlayStation 5 and Xbox Project Scarlett consoles, as well as PC.
The detail that the rumored title will be geared toward next-gen consoles provides a few hints about when it might be released. Sony and Microsoft are expected to launch their consoles late in 2020, so at the very least, don't expect a new GTA before then. But the leak teases another release-date detail.
The redditor claims the game has been in the works since 2012, but production didn't actually pick up until 2015. It reportedly took Rockstar eight years to finish Red Dead Redemption 2, and leaks have painted GTA VI to be even larger scale than the blockbuster Western. That could mean we might not see the title until 2023 or later.
But even with a far-off release date, Rockstar has a history of announcing GTA games years before they hit shelves. Both GTA V and GTA IV were announced two years before release, and Rockstar could do the same for the next installment to stir up some hype.
Game release dates are always subject to change, but the next banner hanging outside of the Rockstar Edinburgh studio could just be of GTA VI.