Vin Diesel's 'Bloodshot' producers tease trailer will run with 'Terminator'
A Valiant Cinematic Universe is "unlikely" for now.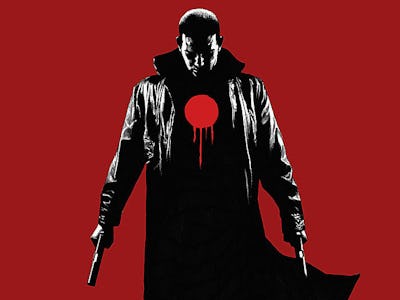 Valiant Entertainment 
It's been a minute since Vin Diesel starred in an action movie that didn't have fast and furious cars. But at New York Comic Con, Hivemind, the producers of the first film adaptation of a Valiant Comics character, Bloodshot, teased when the first trailer to the film will be revealed.
Speaking at a panel on Thursday, Hivemind co-founder and former Valiant CEO Dinesh Shamdasani was asked when fans will begin to see the marketing campaign for Valiant, which stars Vin Diesel in the title role of the Valiant superhero. Shamdasani hinted that the first trailer will premiere and run with Terminator: Dark Fate in theaters.
"I shouldn't say [when], but I highly recommend everyone watch Terminator: Dark Fate," Shamdasani said.
While it's likely the trailer for Bloodshot will be released online before the November 1 release of Terminator: Dark Fate, there is at least a guarantee fans will soon see the first Valiant Comics character to make it to the big screen.
Furthermore, Shamdasani teased the trailer may contain Vin Diesel's full make-up and costume as Bloodshot, an eerie figure who is physically defined by ghostly white skin, a crimson circle on the chest, and blood red eyes. Or, it might not. It depends how much the film's visual effects can be completed in time for the trailer to premiere.
"That's one of the things we're dialing into in the effects, which I hope gets done in time because we're trying to get it in the trailer," said Shamdasani. "If not, sorry, you're going to have to wait until the second trailer." (At the panel, Shamdasani apologized directly to a fan dressed up in full Bloodshot cosplay.)
Based on one of the first and most popular characters from Valiant Comics, Bloodshot stars Diesel as Ray Garrison, a soldier subjected to the top secret military program Project Rising Spirit. Injected with a billion microscopic supercomputers (or "nanites") into his bloodstream, Bloodshot gains the powers to heal wounds and hack into any machinery through physical contact.
Bloodshot is just part of a larger universe, the Valiant Universe, which also contains characters like X-O Manowar, Faith, the Eternal Warrior, Doctor Mirage, the duo Quantum and Woody, and more. Shamdasani said that the possibility of a "Valiant Cinematic Universe" is unlikely due to a variety of reasons regarding Valiant Comics' current owners, DMG Entertainment.
When asked at the panel if Bloodshot will kick off a VCU, Shamdasani said, "We had many conversations." The character of Toyo Harada, a shady businessman and tremendous psionic powers, had appeared in early drafts of Bloodshot and "was at one point going to be in the film."
"Unfortunately," Shamdasani said, "Valiant has its own plans, its own management system now. That's all off the table. There's a Bloodshot film. If it's a success and we get to make more, then there will be a Bloodshot world I guess. The rest is up to Valiant. It will be unlikely for that to happen now."
Bloodshot will hit theaters on February 21, 2020.