Netflix's 'The Witcher' Producers Are Making Live-Action 'Final Fantasy'
Live-action chocobos are coming.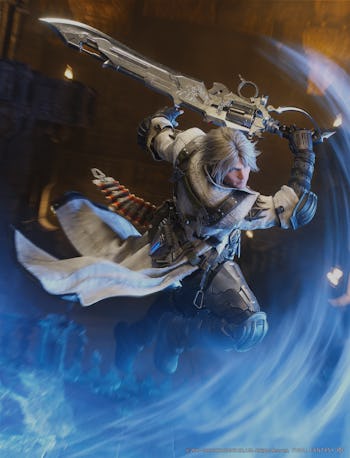 Square Enix
The producers of Netflix's The Witcher, starring Henry Cavill as Geralt of Rivia, is now onto its second television adaptation of a major video game. This time, it will be a new series based on the popular MMORPG, Final Fantasy XIV.
On Thursday, Sony Pictures Television announced a partnership with Square Enix and production company Hivemind on a live-action television series based on Final Fantasy XIV, the multiplayer online RPG released in 2013. The series will tell "an original story" set in the game's world of Eorzea.
The show doesn't yet have a confirmed director or any actors. It also doesn't have a home yet: No channels or streaming services — Netflix, Amazon, etc. — have been announced as the home for the in-development series.
But screenwriters Ben Lustig and Jake Thornton, best known for their spec scripts The Wells Initiative, are confirmed to serve as writers and executive producers on behalf of Hivemind, which is also behind Netflix's The Witcher and Scary Stories to Tell in the Dark.
Only one character is confirmed to appear so far: Cid, one of the very few characters in the entire Final Fantasy franchise to appear in nearly every game.
There will also be chocobos, as confirmed by Sony Pictures Television Co-President Chris Parnell. "This show is about embracing and embodying all of the elements that have made the mythos such an endlessly captivating phenomenon, and it's an immense honor to be bringing all of Eorzea's iconic characters, settings, and concepts – including fan-favorites like Cid and, of course, the chocobos – to life for a television audience," Parnell said.
"Television is the ideal medium to capture the extraordinary depth, sophisticated themes, and unparalleled imagination of Final Fantasy and its multitude of unique and fully realized characters," said Jason Brown, Hivemind Co-Founder and Co-President. "We are working tirelessly to bring together artists from around the world who are united in honoring the extraordinary legacy of this franchise and its millions of fans around the world."
Besides Sony and Square Enix, the studio behind the new Final Fantasy series is Hivemind, which started in 2018 and wasted little to no time getting started. Formed by Jason F. Brown, Sean Daniel, Kathy Lingg (producer of Westworld and Fringe), and Dinesh Shamdasani, the studio is currently producing The Expanse for Amazon, the horror film Scary Stories to Tell in the Dark for CBS Films, and The Witcher for Netflix. Hivemind has a first-look deal for Amazon, but it is unknown if Amazon will be the home of Final Fantasy.
Released for Windows PC and PlayStation 3 consoles in 2013, Final Fantasy XIV is the second MMO (after Final Fantasy XI in 2003) in the franchise. The game boasts over 16 million registered players as of 2019.
Set on the planet Hydaelyn, of which Eorzea is a prominent region, the game allows eight humanoid races for players to create their characters from: Hyur (human-like), Elezen (elf-like), Lalafell (dwarf-like), Miqo'te (cat-like), Au Ra (demon-like), Viera (bunny-like), Hrothgar (lion-like), and Roegadyn (uh, they're like, big). Gamers take on the role of an adventurer who joins one of three "Grand Companies" when they see a vision of a mysterious blade of light.
Final Fantasy XIV will be the first game to have a live-action adaptation, but it won't be the first Final Fantasy TV show. In 2017, Netflix premiered Final Fantasy XIV: Dad of Light, a live-action soap opera about a young man and his estranged father reconnecting through their time together playing the game.
There is not yet a premiere date for Final Fantasy XIV.