Guillermo del Toro: 'Scary Stories' Is a PG-13 "Family Horror" Movie
Why violence and gore wasn't in the cards in the film adaptation of the cult classic horror novels.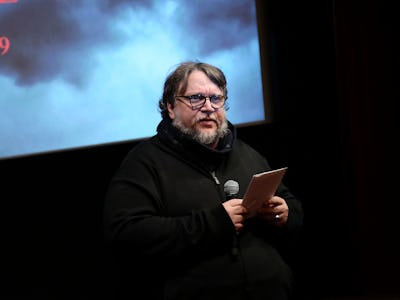 CBS Corporation
Horror maestro Guillermo del Toro is producing the film adaptation of Scary Stories to Tell in the Dark. But the acclaimed director of adult fantasy films Pan's Labyrinth and The Shape of Water didn't want the new movie to have a hard-R rating. To del Toro, and director Andreé Øvredal, PG-13 was "a wonderful rating" for one simple reason.
On Monday afternoon, at the Roxy Hotel in New York City, del Toro and Øvredal hosted a preview screening of two complete scenes from Scary Stories to Tell in the Dark. The film, in theaters on August 9, is based on a series of anthology horror books written by Alvin Schwartz and illustrated by Stephen Gammell that were aimed at a young readership despite their spooky content and horrifying art.
During a Q&A session, Øvredal admitted he never read the books due to the fact they were never published in his native country of Norway. But once he did, he fell in love with the books' whimsical tone that balanced humor and horror.
"All these fun urban horror tales that were able to balance humor and scares, and make them very interactive, really inspired the way I wanted to direct a movie," Øvredal said. He added the books felt "almost Amblin-esque," referencing Steven Spielberg's production company that established a particular tone and style for family movies in the 1980s and 1990s.
"To make it something — a really fun, scary movie, that was absolutely my aim as a director," Øvredal said. "So we aim for a PG-13 rating, because that's also a wonderful rating for this kind of experience. We didn't want to go too young, but we still had to honor that they are books for a younger audience."
He confirmed there is "no blood" and "no violence" in Scary Stories to Tell in the Dark, and only a few swear words.
Del Toro, who crafted a single narrative that included the various monsters from Schwartz's disconnected stories, felt it was "interesting" to make Scary Stories a "young adult movie, that was about the end of childhood."
"About kids at a time when things were changing forever," del Toro said. The film takes place in middle America, 1969, which del Toro said is "a crucial period for America, and the end of a childhood in many ways."
"I think the other important thing is to make it about characters we love," del Toro said. He brought up his Netflix franchise, Trollhunters, an original animated fantasy that has some scary elements but is made to be enjoyed by the whole family. Scary Stories to Tell in the Dark, del Toro feels, is similar to his Trollhunters trilogy.
"I remember when I was a kid watching Johnny Quest and cartoons and movies that had kids but were pretty scary," del Toro said. "I wanted this to be a family horror film. Family is a horror all in itself. Sometimes you can find something nice to watch, and this is what we did."
Scary Stories to Tell in the Dark will be released in theaters on August 9.