30-50 Feral Hogs Makes Us Think of 3-4 Dystopian Streaming Recommendations
We're all in a swine-filled dystopia now.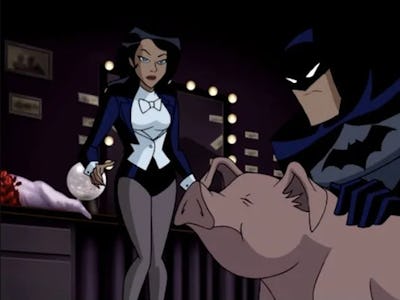 Living under the constant fear of 30-50 feral hogs charging into our backyard has made us overly concerned with the end of the world. So in this week's Thursday Multiverse, we've got four different streaming recommendations, each of them dealing in a radically different kind of dystopia or apocalyptic scenario … with a little bit of Batman thrown in for good measure. Gotham City has always felt like a dystopia, right?
This is a recreation of Inverse's twice-weekly newsletter, Multiverse. Sign up here for free.
Here are four streaming suggestions to guide your weekend:
"I Am Vengeance. I Am the Night. I Am Batman: The Animated Series!"
"Crisis on Infinite Earths" is pulling out all the stops later this year as the latest Arrowverse crossover, bringing together an impressive lineup that includes beloved DC actors of yore.
With the exciting announcement that Kevin Conroy will be joining the annual Arrowverse crossover, there's no better time to rewatch the best Batman series out there: Batman: The Animated Series. Conroy embodies the role of both Bruce Wayne and the Dark Knight like no other, and Mark Hamill's Joker is just as memorable as he is darkly humorous. 
It might not have been the first iteration of an onscreen Batman, but it might be the truest. Batman: The Animated Series adapted so many iconic storylines and even introduced an original character in Harley Quinn, the Joker's maniacally tragic sidekick, leaving a huge impression on fans 24 years after the final episode aired.
The series used to be available to stream on Amazon as part of Prime membership, but that's no longer the case. But, for $7.99 a month (or a 7-day free trial), you can stream the iconic series to your heart's content on DC Universe. — Mae Abdulbaki
I'll Be Back … to Rewatch Terminator and Terminator 2
Arnold Schwarzenegger is back, and he's bringing Linda Hamilton (aka, the only Sarah Connor we recognize) with him! Look, I know Terminator: Dark Fate is still months away from its November release, but I still can't stop thinking about the new footage revealed last month at San Diego Comic-Con. Lucky for me, Hulu's catering to my needs with eerie, Skynet-level accuracy by bringing the original Terminator to its service, where you can watch it for free (assuming you're a paying subscriber) as of August 1.
If you're not familiar with the Terminator franchise, it's important to understand exactly where Dark Fate fits into this story, which already includes five movies and a two-season TV show on FOX. I know that sounds like a lot to catch up on, but Dark Fate is pulling off a reboot of sorts by picking up where Terminator 2 left off and pretending all the other ones never happened. That means you only have two movies (the best two, IMHO) to watch or rewatch.
You can start on Hulu with the original Terminator, a gritty sci-fi thriller about a robot (Schwarzenegger) who travels back in time to kill a young woman (Hamilton); it's violent and exciting all the way through, with a twist you'll never see coming. As for T2, there's no "free" way to stream it now, but you can rent the sequel from Amazon for $2.99, or, if you'd rather wait, there's a decent chance it will turn up on one of these services before Dark Fate arrives in November. — Jake Kleinman
Attack on Titan Is the Perfect Gritty Anime Gateway Drug
A beautiful and disturbing dark fantasy, Attack on Titan is an accessible entrypoint for anyone who's intrigued by anime but has never given it a chance. The gritty series could also fill that Game of Thrones-shaped hole in your heart with a dire tale of likable heroes struggling in the face of annihilation. You meet new characters, fall in love with them, and they're often unceremoniously killed off in gruesome fashion. You'll get Red Wedding vibes at least once per season.
Contrasted against the gorgeous backdrop of a picturesque, vaguely Germanic landscape Attack on Titan tells a story of a human society struggling to survive the countless naked, slack-jawed giants — called "Titans" — that shuffle around outside the city walls longing for human flesh. Attack on Titan fuses typical anime tropes with familiar trappings of zombie and kaiju stories and eventually veers into the realm of the mecha sub-genre … except people pilot these nasty giant instead of big robots.
The series focuses mainly on a small group of teenagers training to join the military, with the traumatized and driven Eren Yeager as the protagonist. During an attack from the Titans, Eren accidentally discovers that he has the ability to transform into a Titan far more powerful than the average, and it changes the war forever.
The complete Attack on Titan 3A just hit Hulu as of August 6, so there's no better time to start watching that right now. — Corey Plante
There's Still Time to Catch up on Handmaid's Tale Before Season 3 Ends
The Handmaid's Tale Season 3 finale lands on Hulu August 14, just a short week away, so now would be as good a time as any to catch up. Immerse yourself in the haunting alternate reality that is Gilead. It won't take much for this show to convince you of how such a society could come to fruition. It's not only a terrifying glimpse into what could happen, but it so closely mirrors real life, you're forced to remind yourself over and over again that what's happening is not real. If you're a fan of social commentary and horror, then this is the show for you.
Just don't watch too many episodes at once — trust me. A single episode is hard enough to digest, but if you must keep going, don't forget to take a breather by remembering to take care of yourself. And there's no better way to do that than by signing up for our Sunday Scaries newsletter, where senior science writer Sarah Sloat dives into how to better your mental health for the coming week. — Chelsea Szmania
Got a movie or TV show to recommend? Email it to us at corey@inverse.com and maybe we'll feature it in next week's newsletter.
Also, don't forget to subscribe!