The Boring Company: Investors Dig Elon Musk Venture, Despite a Rocky Start
The company has closed its first round of outside investment.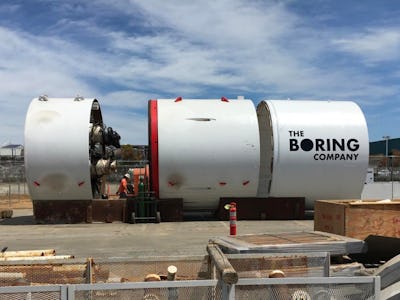 The Boring Company
The Boring Company has raised $120 million, its first outside investment, after a slightly choppy debut for Elon Musk's tunnel-digging venture.
The company, first started at the end of 2016 to help alleviate city traffic, received a warm reception from Future Ventures investor Steve Jurvetson, who also sits on the board of directors for Musk's other firms Tesla and SpaceX. Jurveston told Bloomberg this week that "we are delighted to be an investor in Boring," adding that the company is "a great example of the disruptive playbook we look for." The company claims that, after the move, its value is around $920 million.
The Boring Company has faced skepticism around its tunnel design and opposition from local politicians. Chicago Mayor Rahm Emanuel announced in June 2018 that the firm would connect the airport to a downtown station around 16 miles away. After Emanuel left office in May 2019, other politicians expressed uncertainty that the $1 billion connection was a good idea.
Musk's pitch for the Boring Company, detailed in December 2018, also left some lawmakers scratching their heads. The 14-foot wide tunnels would send autonomous electric cars through at speeds of up to 150 mph, supporting around 4,000 cars per hour. Pedestrians would be able to call up a Tesla Model X in lieu of their own car, and they would receive priority. This was a slight change from earlier concept art that depicted a passenger pod carrying up to 16 people.
"It's a car in a very small tunnel" was how Michael McLaughlin, Virginia head of rail transport, dismissively described the idea after visiting the company's California headquarters.
But even when the initial concept shows promise, the Boring Company has hit its fair share of speed bumps. Talk with New York City reportedly failed in February after the two sides could not resolve issues around ventilation, emergency responses, and conflicts with existing infrastructure.
The Boring Company: From Musk Daydream to Near-Unicorn Value
Musk has been calling for tunnels as early as January 2016, telling students at the SpaceX hyperloop design competition that tunnels would "massively alleviate congestion…you could have tunnels at all different levels, you could have 30 layers of tunnels."
The Boring Company gradually built up a fan following through rather unconventional means. Musk claims to have taken inspiration from Spaceballs with his lineup of the Boring Company merchandise. The lineup initially covered hats, before moving onto flamethrowers. The firm sold them as "not-a-flamethrower" in what Musk claimed was a bid to avoid regulatory issues. The firm held a tour for randomly chosen buyers in the summer of 2018.
Momentum was building, but the general public don't tend to invest in tunnels. A December 2018 presentation, complete with a Monty Python watchtower, built attention around its professional efforts. The initial 1.14-mile test tunnel, built behind the SpaceX headquarters in suburban LA, was a first step in reaching those lofty ambitions to solve induced demand.
Promising to solve the induced demand problem, Musk outlined how his tunnels could cost 10 times less than other projects through more powerful machines, constant tunneling and a tunnel diameter half the size of a single-lane car tunnel.
Its design has inspired some to express an interest. Las Vegas announced in March that the firm would provide tunnels for the convention center that hosts the Consumer Electronics Show. This would come as part of a planned expansion that would double the venue's size and cover 200 acres.
Other cities have expressed warm interest. San Jose Mayor Sam Liccardo dismissed rail links as "not that cost effective," claiming the city would consider a link that ran to the airport. Los Angeles has thrown its support behind the Dugout Loop, a 3.6-mile tunnel connecting the baseball stadium to the nearby metro lines. A 35-mile project has been discussed between Washington, D.C. and Baltimore.
Thursday's investment could help the firm continue to kindle that interest and overcome those initial hurdles. The $120 million comes after a previous investment of $113 million in April 2018, 90 percent of which came from Musk and the rest from employees.
A company spokesperson told Bloomberg that, after the new round of funding, the company was valued at around $920 million. That places it close to so-called "unicorn" valuation territory, privately-held firms worth more than $1 billion.
Its concept may have confused lawmakers, but as the Boring Company finds its feet among investors, there may be light at the end of the tunnel.