Musk Reads: Starship Gets a New Design
Plus, slime goes into space and Starship big reveal draws close.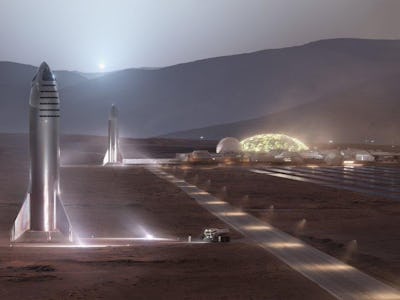 Elon Musk/Twitter
Musk teases a new Starship design; the Mars-bound rocket gears up for its big reveal; and Nickelodeon plans to send some slime into space. It's Musk Reads: SpaceX Edition #87.
A version of this article appeared in the "Musk Reads" newsletter. Sign up for free here.
Musk Quote of the Week
"Occupy Mars"
SpaceX
SpaceX's Starship is about to conduct more hop tests at its Boca Chica facility in Texas. The CEO confirmed on Friday that the Raptor engine has been mounted on the miniaturized "Starhopper" test vehicle, with plans to hop around 20 meters up and sideways. This will be a marked improvement over the hop tests of a few centimeters back in April, and will see the Raptor thrusters set to around 50 percent. Musk stated that a full-blown Starship could complete a hop test of 20 kilometers as early as a few months' time. The tests pave the way for a full-blown test mission. Read more.
Further details about the Starship, including a new design, could emerge as soon as a few weeks time. After the team had fixed a rather bizarre Raptor humming issue, Musk explained that the ground was clear for the long-awaited Starship presentation. The reveal had been slightly delayed from an originally planned June 20 date. On Friday, Musk teased that the event will feature more details about an even newer, as-yet unseen tweaked design, improving on the shiny stainless steel construction. Read more.
SpaceX may also help scientists send slime into space. The company's next resupply mission to the International Space Station includes slime from children's television network Nickelodeon. The goal is to produce videos on slime experiments to spark an interest in microgravity research. The CRS-18 resupply mission also includes an Adidas ball to study its movement, Goodyear silica forms to produce better tires, and a BioFabrication Facility that could help print entire organs in space. Read more.
What's next for SpaceX: The CRS-18 resupply mission is scheduled for launch no earlier than 7:35 p.m. Eastern on July 21. The Dragon capsule will launch from the Cape Canaveral Air Force Station using a Falcon 9 rocket.
More Musk Reads
Neuralink, Musk's mysterious brain-computer linkup firm, is hosting an event. The San Francisco-based firm plans to give attendees the chance to "hear from members of our team about what we've done so far, as well as some of our plans for the future." The event, scheduled for the evening of July 16, will likely provide more information about the company's plans to create "ultra high bandwidth brain-machine interfaces to connect humans and computers." Musk is hopeful that such breakthroughs could stop a super-smart A.I. from taking control. Read more.
Video of the Week
Watch the STP-2 fairing shine bright blue:
The Ultra-Fine Print
This has been Musk Reads: SpaceX Edition #87, the weekly rundown of essential reading about futurist and entrepreneur Elon Musk. I'm Mike Brown, an innovation journalist for Inverse.
A version of this article appeared in the "Musk Reads" newsletter. Sign up for free here.