SDCC 2019 Panels: 5 Big Reveals to Expect From Marvel, 'GoT,' and More
Brace yourself: The comic-con hype machine is just warming up.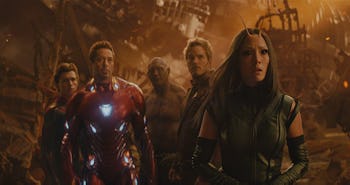 Marvel Studios
We're mere weeks away from San Diego Comic-Con 2019 kicking off on July 18. As we await all of the film, television, and pop culture goodness that is about to descend on us in a glorious information avalanche, it's probably worth keeping our eyes on the prize: all of the big reveals about forthcoming movies and TV shows which will dominate our conversations in the coming year.
Thankfully, there's plenty to focus on. SDCC is basically the IRL Cave of Wonders from Aladdin: You're presented with tons of shiny new things to behold and you have to scramble to figure out which one you're going to spend a solid week flipping out about, researching, and then preparing for the eventual premiere. We all have fond memories of SDCC announcements that filled us with pure, unadulterated glee.
With all of this in mind, let's take a look at five of the biggest reveals we're looking forward to at SDCC 2019 in geeky movies, TV, and more.
5. Superhero TV Gets A Big Spotlight
Regardless of the network or streaming platform, superhero-centric shows will continue to dominate the television landscape. Currently, The CW arguably has the largest foothold here thanks to the DC-based extended Arrowverse helmed by Greg Berlanti. But the DC Universe streaming service has come along in 2019 to add some more flavor to the Warner Bros./DC TV offerings with its own group of originals, too.
To the delight of fans everywhere, Warner Bros. Television Group announced in a press release which shows would be coming to SDCC 2019. Those shows are:
The press release confirmed that in addition to panels for each of these series, the pilot episodes for both Batwoman and Pennyworth — the two freshman shows in this lineup — would be screened. The panels for each of these shows will no doubt be filled to the brim with new information and likely new photos or footage from each show's upcoming season.
But WB isn't the only one set to make a splash at SDCC 2019. Amazon Studios will be bringing its upcoming series, The Boys. Amazon confirmed in late June The Boys, an adaptation of Garth Ennis' comic of the same name, would have its own panel at SDCC which will likely provide more footage from the show and help give potential audiences a better taste of its edgier tone and subject matter.
4. It's Time to Talk Stephen King
Warner Bros. is already ready to talk some serious Stephen King at SDCC 2019. It: Chapter 2 will be featured in SDCC's third annual ScareDiego event as its centerpiece film. Director Andy Muschietti posted an Instagram photoset on June 5 which teased It: Chapter 2's presence at the con. Deadline also noted that previously unseen footage from the film will be shown at the ScareDiego event, too, which is good because we need to see more from the adults Losers Club; show us the chemistry!
3. HBO's Westworld Panel Talks Season 3
Westworld will be one of two big HBO presences at SDCC 2019. A Westworld panel will be coming to the convention and new footage from the season is expected to be shown in addition to the requisite panel discussion. Expected Westworld panel attendees will be:
Showrunners Jonathan Nolan and Lisa Joy
+Thandie Newton
+Aaron Paul
+Tessa Thompson
As is often the case with Westworld, only one teaser trailer has been released onto the masses, raising many questions and answering very little when it came to previewing the new season. SDCC 2019 would be the perfect time for Westworld to get back inside of our heads — especially because it's been so damn long since most of us really sat and thought about it at all.
2. Game of Thrones Teasing Upcoming Spinoffs
Among the more recent SDCC 2019 announcement was the news that Game of Thrones showrunners David Benioff and D.B. Weiss would be coming to SDCC to revisit their epic series in a panel discussion. TV Line reported in late June that Benioff and Weiss would be bringing a bevy of beloved cast members along for a panel discussion that will more than likely rehash the show's final season (which wrapped on May 19). The cast members coming along for the ride will be:
There's a good chance that more information on the Game of Thrones prequel series, currently titled Bloodmoon, will also be discussed. Filming on Bloodmoon is already underway, so fingers crossed some new footage or photos is released, too.
1. Marvel Studios Will Present Phase 4 in Hall H
Arguably the biggest expected reveal at SDCC 2019 has to do with Marvel Studios. Deadline confirmed in late June Marvel will be having a panel discussion in the famed Hall H and fans are fully braced for this to be the biggest panel of the year.
By the time SDCC rolls around, Marvel's Phase 4 will have kicked off thanks to Spider-Man: Far From Home swinging into theaters on July 2. With this in mind, MCU fans (including me, big time) will be keen for more information about forthcoming films, including Black Panther 2, Doctor Strange 2, Shang-Chi, The Eternals, Black Widow, and Guardians of the Galaxy 3.
Each of the Phase 4 films is already underway, though they're all at different stages of production. What fans hope most for when Marvel Studios arrives at SDCC is confirmation of Phase 4 movie release dates and (hopefully) new footage, photos, casting information, or maybe even hints about what the new overarching narrative which will tie all of these Phase 4 films together will be.
San Diego Comic-Con 2019 takes place July 18-21.