'Westworld' Season 3 Spoilers Could Be Coming at San Diego Comic-Con 2019
Does this mean the release date is coming soon too?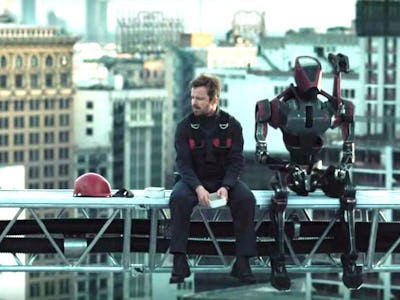 HBO
Westworld Season 3 won't release until next year, but HBO is already doing the most to build hype for the dystopian TV show. We got our first clue-filled trailer for the third season last month, and in July, Westworld's cast and creators may show up at San Diego Comic-Con to tease even more Season 3 spoilers.
ComicBook reports that SDCC 2019 will feature a Westworld panel meant to promote Season 3. It's unclear what that will entail, but it sounds like the cast and writers could turn up for a presentation at Hall H (where all the big panels take place) to reveal a new trailer. We also don't know exactly who will show up, or whether HBO is also planning any sort of immersive experience for fans who attend Comic-Con next month.
Inverse reached out to HBO for comment, but the company declined to confirm the news. Read on for everything we know about Westworld season 3 so far.
The Westworld Season 3 trailer revealed a major turn for the series as it leaves the park (or does it?) and adds a new main character to the cast with Aaron Paul. The Breaking Bad star seems to play a disillusioned worker in a near-future where robots and humans live side-by-side. By day he works construction, by night he carries out heists with Lena Waithe and Marshawn Lynch.
At the end of the trailer, Paul's character encounters Evan Rachel Wood, who may or may not be Dolores (at this point we can barely remember who Host brain is inside which Host body). She's sick, or maybe malfunctioning, and leans against a wall covered in graffiti that looks suspiciously similar to the infamous maze from Westworld Season 1.
Is this the real world? Or just another layer of the park?
Meanwhile, some online sleuths may have spotted one of the biggest Westworld Season 3 twists ahead of time. It seems the company that registered promotional websites in the past like discoverwestworld.com and discovershogunworld.com has claimed a new URL titled discoverwarworld.com. Fans were quick to speculate that this could be a new Delos park set during World War II, giving paying customers the option to cosplay as Nazi-killing soldiers.
Of course, much of this is just speculation, but we should learn more soon as HBO continues to build hype for Westworld Season 3. And assuming the show is returning in the first half of next year (for now, the official release date is simply "2020"), it makes a lot of sense to bring the series to SDCC 2019.
San Diego Comic-Con 2019 runs from July 18-21. Westworld Season 3 premieres in 2020.