'Spider-Man: Far From Home' Almost Solved an 'Avengers: Endgame' Mystery
What happens to the remaining Avengers after 'Endgame'?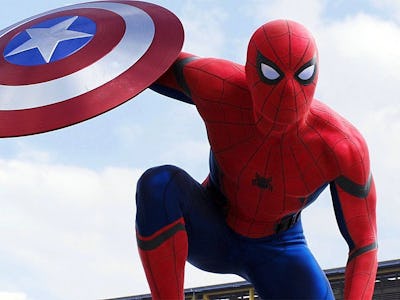 Marvel
Avengers: Endgame did an impressive job tying up a decade of Marvel movies, but we still have plenty of questions about what comes next for some of our favorite superheroes. Sadly, Spider-Man: Far From Home doesn't offer many answers in this area, preferring to tell an isolated story about Peter Parker's action-packed EuroTrip, but it turns out Marvel actually considered including a few key scenes that could have explained what happenss to key Avengers like Thor and Falcon (aka, the new Captain America).
The biggest mystery at the end of Endgame is probably Thor's future. After ceding control of New Asgard to Valkyrie, he presumably joined the Guardians of the Galaxy, and Nick Fury confirms as much in the Far From Home trailer when he tells Spider-Man that Thor is "off-world." But beyond that, we don't know much.
What's he up to? And how is Valkyrie handling her new responsibilities? You won't find out in Spider-Man: Far From Home, but that wasn't always the case.
Speaking to ComicBook.com, director Jon Watts revealed that an earlier version of the movie had Spidey swing through New Asgard during his school trip across Europe. "I remember one point we were talking about if one of the stops along the way through Europe was going to be New Asgard," Watts said.
While it sounds like this idea didn't make it beyond the writers' room, it's enough to send our minds racing. A pit stop in New Asgard makes sense since the refuge for Asgardians is located in Europe not so far from the other locations Spider-Man visits in this movie. More importantly, a single exchange of dialogue between Spidey and Valkyrie (reunited after the battle against Thanos) could easily shed some light on Thor's antics post-Endgame.
Instead, we may have to wait until Guardians of the Galaxy Vo. 3 to find out what the God of Thunder is up to. And from the looks of it, that probably won't happen for at least a couple more years.
The biggest twist, in Endgame, however, was all about Captain America. After Steve Rogers went back in time to return the Infinity Stones, he decided to stay there and live out his life married to Peggy Carter. As an old man, he reappears in the present to hand Falcon (aka, Sam Wilson) his shield along with the mantle of Captain America.
What happens next? We'll probably find out when The Falcon and the Winter Soldier launches on Disney+ next summer, but Spider-Man: Far From Home almost gave us a glimpse of the new Captain America much sooner.
Here's creative executive Eric Carroll speaking to ComicBook.com:
"We briefly talked about bringing in Falcon as Captain America at the end, like maybe once Peter's arced, and he's sort of like leading the team, like maybe he calls in a favor, but we also thought it was really important to the arc of this movie that there not be other Avengers available to Nick Fury or Peter, so he'd have to step up and do it himself."
That sounds pretty awesome (just like the New Asgard scene that never was) and we're a little bummed to find out that Far From Home scaled back its bigger crossover ambitions. Then again, sticking to Spidey's solo adventure might be exactly what the MCU needs right now. After the biggest crossover event of all time (again), it's nice to just kick back and relax with our friendly neighborhood Spider-Man.
Spider-Man: Far From Home swings into theaters on July 2.