'Avengers: Endgame' Blu-Ray Features Include a Reveal of Thor's New Name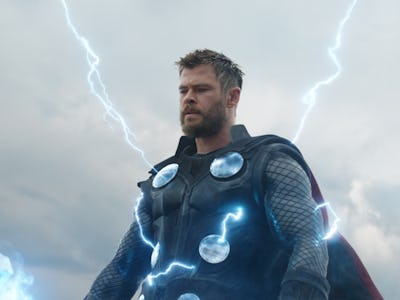 Marvel Studios
The home media release of Avengers: Endgame will, as expected, contain a plethora of extras that reflect on some of the biggest things to happen to the Marvel Cinematic Universe. But one bonus feature, centered on Chris Hemsworth's Thor, gives an official name to what fans have called "Fat Thor."
In a press release announcement, Avengers: Endgame will release on Digital HD on July 30, and on 4K Blu-ray, Blu-ray and DVD on August 13. Marvel also revealed a long list of additional features, including one that will reveal the actual nickname we should use to describe the Big Lebowski-esque version of Thor introduced in Endgame.
True believers: Meet "Bro Thor."
In addition to the theatrical cut of the film delivered in high-fidelity, both the digital and physical versions will contain almost a dozen extras. Most are featurettes centered on the most important Avengers, like Iron Man, Captain America, and Black Widow, plus the usual offerings like gag reels and deleted scenes (one of which may be screened this weekend for the theatrical rerelease).
There's one bonus feature in particular that is of note. Titled "Bro Thor," the min-documentary feature explores Thor's radical transformation as seen in Avengers: Endgame. The press release promises to take viewers behind the scenes on how the new interpretation of the character came to be.
The description reads: "His appearance has changed but his heroism remains! Go behind the scenes to see how Bro Thor was created."
Obviously, the featurette is referring to "Fat Thor," which received both criticism and praise for its interpretation on weight gain as a result of depression and post-traumatic stress disorder. In the movie, Thor gains weight after he beheads Thanos but still fails to bring back the vanished populace. After realizing that there was nothing more to his quest than violent murder, Thor spends the next five years binge eating and drinking (and playing Fortnite).
In a piece for Vanity Fair, Joanna Robinson took on the nuances of "Fat Thor" that reckoned with its delicate characterization and indelicate fat jokes.
Wrote Robinson:
"Thor doesn't get a big death like Tony—but, like Cap, he gets to retire from the unreasonable expectations he's put on himself. It's astonishing that screenwriters Christopher Markus and Stephen McFeely were able to build such a powerful, personal, and meta-story of reinvention for [Chris] Hemsworth into this massive studio blockbuster. It's just a shame about the unnecessary fat jokes along the way."
"Bro Thor" isn't the only noteworthy bonus features that fans will get to see in the Blu-ray of Endgame. Below is a list of the other features revealed today in the press release:
"Steve and Peggy: One Last Dance" – Explore Captain America and Peggy Carter's bond, forged in moments from previous films that lead to a momentous choice in Avengers: Endgame. (Digital Exclusive)
"Remembering Stan Lee" – Filmmakers and cast honor the great Stan Lee in a fond look back at his MCU movie cameos.
"Setting The Tone: Casting Robert Downey Jr." – Hear the tale of how Robert Downey Jr. was cast as Tony Stark in the original "Iron Man" — and launched the MCU.
"A Man Out of Time: Creating Captain America" – Trace the evolution of Captain America with those who helped shape the look, feel and character of this compelling hero.
"Black Widow: Whatever It Takes" – Follow Black Widow's journey both within and outside the Avengers, including the challenges she faced and overcame along the way.
"The Russo Brothers: Journey to Endgame" – See how Anthony and Joe Russo met the challenge of helming two of the biggest films in cinematic history … back-to-back!
"The Women of the MCU" – MCU women share what it was like to join forces for the first time in an epic battle scene — and be part of such a historic ensemble.
"Six Deleted Scenes" – "Goji Berries," "Bombs on Board," "Suckiest Army in the Galaxy," "You Used to Frickin' Live Here," "Tony and Howard" and "Avengers Take a Knee."
"Gag Reel" – Laugh along with the cast in this epic collection of flubs, goofs and gaffes from set.
"Visionary Intro" - Intro by directors Joe and Anthony Russo.
"Audio Commentary" - Audio commentary by directors Anthony and Joe Russo, and writers Christopher Markus and Stephen McFeely.
This weekend, Avengers fans will get to see the movie in theaters one more time before Spider-Man: Far From Home invades in its place.
Avengers: Endgame will release on Digital HD on July 30, and on 4K Blu-ray, Blu-ray and DVD on August 13.