Here's the Post-Credits Scene in 'Avengers: Endgame's Theatrical Rerelease
MAYBE LESS-THAN-PERFECT HULK WILL SMASH BACK TO SCREENS!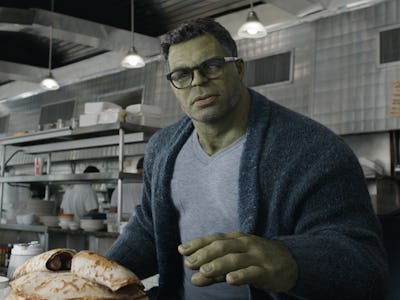 Marvel Entertainment
To defeat James Cameron's Avatar, which is now owned by Disney, anyway, the Avengers will return to the big screen this weekend in a theatrical rerelease of Avengers: Endgame. Here's what you can expect to see.
As confirmed by Marvel Studios on Twitter, the theatrical rerelease for Avengers: Endgame will contain the same theatrical cut of the film, plus the following bonus material, including stuff after the credits:
A new intro from co-director Anthony Russo.
An unfinished deleted scene.
A sneak peek at Spider-Man: Far From Home, in theaters July 2.
There is no official word on what is in the "unfinished deleted scene." But one can bet that "unfinished" means that the scene's final mix — CGI, VFX, sound, etc. — is left incomplete. Like many deleted scenes to movies you might watch on Blu-ray, the scene will probably look more like an old video game than an actual finished scene in a special effects-heavy movie.
There is unfounded speculation among fans that the scene will involve the Hulk (who obviously demands a hefty amount of effects work, next to Groot and Rocket), but nobody knows for sure. Perhaps it's due to the fact that fans will receive an "exclusive poster" in "select theaters," which depict Tony Stark's "Power Gauntlet" that the Hulk uses to Snap back the missing people of the Marvel Cinematic Universe. The poster also contains "We Love You 3000," as if you weren't heartbroken enough already.
Disappointingly, no, the rerelease does not feature anything new pertaining to "Phase 4" of the MCU. There's no Black Widow footage, no Shang-Chi casting announcement, no surprise Fantastic Four/X-Men movies. Sorry.
The rerelease of Avengers: Endgame is purely to get fans to squeeze out the dough one more time (happily!) to make the movie the highest-grossing film ever on the planet, even though that honor will still goes to Gone With the Wind. Adjusted for inflation, Gone With the Wind's $393.4 million worldwide gross in 1939 amounts to $3.44 billion today. For all its records broken, the total gross of Avengers: Endgame (before this weekend) is still $2.7 billion.
Marvel is no stranger to theatrical rereleases. While Avengers: Endgame is a special case, Marvel films have routinely returned to theaters as special "marathons" in which fans test their mettle and spend upwards of 12 hours rewatching the movies before the next big one (usually an Avengers film).
For those who want to just chill out at home before watching all three hours of Avengers: Endgame again, the film's Blu-ray and DVD is expected to release at retail sometime later this year, in 2019.
Avengers: Endgame will be in theaters this weekend.