"Infinity War Is the Most Ambitious Crossover Event" Meme Skewers the MCU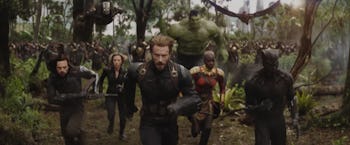 YouTube.com/Marvel Entertainment
Marvel is bringing us a major event with Avengers: Infinity War. Heroes from across the Marvel Cinematic Universe are coming to take on Thanos. Iron Man and Captain America will be among the heroes from Earth taking on the intergalactic villain, and even the Guardians of the Galaxy are making the trip from space. Some may even say it's "the most ambitious crossover event in history."
Well, Marvel might say that, but the internet sure won't.
Many people have gone to social media to jokingly combat the idea that Marvel is the biggest in history. It may be in the MCU's history, but the internet is here to let the world when it comes to crossovers Iron Man and his crew are not the only game in town. People have mined the history of television and film to find times properties came together for epic crossover events. Here are some of the several crossovers the internet feels should be in the running.
Some users included musical teams up of the past and several went for comic book crossovers.
Television crossovers were much more prevalent on television shows across genres in the past and clearly many social media users remember them well.
Other users went for deep cuts finding obscure video games and old photoshoots.
There were also a number of Scooby Doo crossovers on the list. Apparently, the Scooby Gang had friends across several universes.
Avengers: Infinity War premieres on April 27, 2018.