Nintendo Switch Release Date: When Will Rumored New Switches Hit Shelves?
Nintendo may have some heat up its sleeve.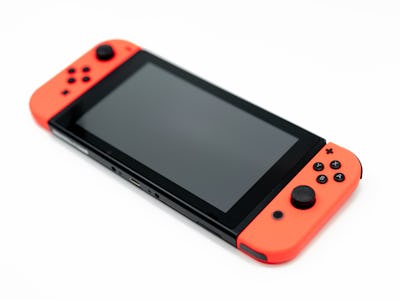 Unsplash / 🇨🇭 Claudio Schwarz | @purzlbaum
New Nintendo Switches may be on their way. The Japanese gaming giant has reportedly begun production on two new versions of the hybrid console. One of the new Switches is said to be a low-cost version of the device which connects to TVs either wirelessly or using a dongle. The other is said to be a more premium device with improved specs.
Update: The New Switch Lite Has Debuted. Check Out our Coverage of the Official Release Here.
The low cost Switch has been dubbed the Nintendo Switch "Lite", and is said to be non-detachable. Instead, gamers will beam Switch games to their TV either wirelessly or perhaps by using a new dongle.
This is according to the The Wall Street Journal, who reported on June 12 that both consoles were officially in the works, citing supply chain sources. Nintendo has been tight lipped about its release timeline. But between the new games announced at the E3 2019 video game expo, a few past reports, and some other industry trends, there aren't a ton of possibilities about when this upcoming console release may be.
Here's what Nintendo might be thinking.
Nintendo Switch "Lite" Possible Release Date
While a budget Switch model didn't appear at E3 2019, a release date by the end of the year is still on the table. A translated version of an April 18 report by Japanese newspaper Nikkei stated that the Switch "Lite" would launch in the fall and that it would be primarily handheld but retain its ability to connect to a TV.
Nikkei's leak record is a bit spotty, but its report corroborates some of the information we now know to be true. Nikkei's information aligns with the WSJ's report about the new Switch's wireless connectivity. Nikkei's timeline also lines up with some of the new titles Nintendo announced at E3 2019.
Pokèmon Sword and Shield, Luigi's Mansion 3 and The Legend of Zelda: Link's Awakening will all launch this year, according to Nintendo's E3 presentation. The three refreshes to iconic Nintendo series stole the show at E3, and the company could capitalize on the buzz by releasing the Switch "Lite" alongside these games and offering bundles.
There's also some previous precedent for the time line. The original Switch was officially announced by Nintendo on October 2016, and released on March 2017. A fall release date could in theory be timed to go alongside the first Switch announcement's third anniversary.
One hitch? Two new hardware drops alongside all these new games seems like a lot to ask for. If Nintendo introduces a new Switch this fall, then it will likely hold off on releasing the second device until some time next year. Based on Nikkei's reports, it looks like Nintendo plans to launch the wireless (or dongle-using) Switch first, with a nicer, swankier model further down the line.
Upgraded Switch Model Release Date
The timeline for this second Switch is vague. Nikkei's reporting has mentioned a "next-generation" Switch model. But based on the language, it's unclear if Nikkei is referring to the upgrade that's been alluded to in recent WSJ leaks or whether it's another generation Switch entirely.
Here's a snippet of the report translated using Google Translate:
"Next to the compact and inexpensive version, the development of the next-generation model that completely remodels the current model will be postponed."
That conflicts with the WSJ reporting, which says that both consoles are now in production. But it's also worth noting that there's been a great deal of confusion about these new Switches — how they're different, and when they're arriving — which makes it a little difficult to get a clear sense of Nintendo's plans.
When it took up the topic, the highly reputable Bloomberg reported on April 23 that there wouldn't be a premium Switch at all, and instead that Nintendo planned only a "modest upgrade" to the original console instead. But Bloomberg's report also stated that this device would debut in June. That obviously didn't happen, casting some doubt on Bloomberg's report that Nintendo only has plans for a single new Switch console.
Nintendo fans will need to wait until the company's next online announcement to know for sure.
When Is the Next Nintendo Direct?
Nintendo makes all of its big announcements via online presentations. The most recent Nintendo Direct only just took place on June 11 right before the E3 2019 show floor opened.
So when could the next one be?
Seeing as there are so many titles and DLC content scheduled to be released at the tail end of 2019, it seems very likely that Nintendo will host at least one more press conference by the end of the year. If it doesn't, there may be questions whether something has gone awry.
After all, Luigi's Mansion 3 has yet to receive a concrete release date, and two new characters are coming to Super Smash Bros. Ultimate, along with some other likely changes. These announcements alone would be worth a press conference in their own right, and certainly give Nintendo another discrete opportunity to begin planning an unveiling for a new Switch.
Why 2019 Is a Great Opportunity for a New Switch
One big reason why, despite all the conflicting reports, a 2019 Switch release still makes sense? It would be very good business.
Right now, the current console generation is coming to an end, which means Xbox One and PlayStation 4 have reached their highest adoption base. Gamers are now eagerly awaiting the new PS5 and Xbox Scarlett consoles, neither of which is scheduled to release until 2020. 2019 has presented Nintendo with something of an open goal as far as winning the holiday shopping season, at least as far as console tech goes.
A budget-friendly Switch, along with a roster of new games could be the perfect storm for Nintendo to go big when its competitors are in their planning phases. It seems unreasonable to assume they won't strike while the iron is hot.