New Nintendo Switch "Lite" Will Have an Impressive Secret Feature: Analyst
Nintendo might have an ace up its sleeve.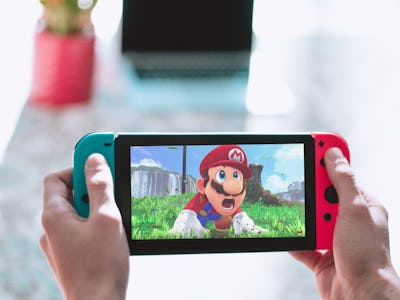 Unsplash / Corey Motta
Two new Nintendo Switch consoles could be released as early as this summer. The Japanese gaming giant is reportedly readying both a premium and budget variant to follow up on the gaming system that was released in 2017. The more affordable version has been unofficially dubbed the "Switch Lite," and it has raised some alarm over the possibility that it could do away with the device's so-called "switch-ability."
Dr. Serkan Toto — the CEO of Kantan Games — predicted that the device will be be fully handheld, like a PlayStation Portable, and cost somewhere in the ballpark of $199. He is the source cited in a GamesIndustry.biz report that the Switch Lite won't be able to "switch" from a handheld to a console. But not everyone agrees with this assessment. Ben Arnold, the senior director of innovation and trends at the Consumer Technology Association, tells Inverse he disagrees with the notion that any modern-day console will release without TV-supporting features.
"I think even a portable-only device would have some connection to the TV, either an HDMI port or some wireless mirroring capability," he said. "There are other ways to design products for portability, [for example] through different form factors or internal components. I would expect any new media devices to have a tie-in with the TV."
The so-called Switch "Lite" might come with its Joy-Cons built into its body, so it could then transmit games being played on its handheld screen to larger displays. It would essentially be a controller with a built-in screen, which is exactly how the Wii U was designed. Nintendo is said to be repurposing the most successful concepts from its last console — which was widely perceived as a flop — to imbue more capabilities into the Switch, one of its most successful consoles.
The Switch instantly became one of the world's most popular gaming platforms with more than 32 million units sold as of Dec. 2018. Strategy Analytics predicted that the Switch will help Nintendo surpass Sony in console sales for 2019, and that prediction was before the possibility of two new 2019 Nintendo releases beginning to surface.
Nintendo, of course, also has the most storied legacy of all the big console makers when it comes to handheld gaming. The original Game Boy, Game Body Advance, and Nintendo DS are all amongst the top 10 best-selling video game consoles of all time, according to Guinness World Records.
The company still sells a number of DS handheld consoles, the oldest one being the Nintendo 2DS which was released all the way back in 2013. The "Switch Lite" will likely be marketed as a replacement for some of these older handhelds by offering an entry-level console that can still play some of Nintendo's more recent titles.
The more affordable of the two Switches will still probably be limited in some way as far as how many different forms it can take. Otherwise, there would be no reason to upgrade to the premium device. But if Nintendo does indeed offer a TV connection, portability, and a lower price point all through the same device, it could capitalize greatly on its appeal among handheld gamers who have gravitated to Nintendo products for years. And soon, all those Nintendo fans could be able to turn to the company for all their gaming needs.