Wii U Sales Tank Ahead of Nintendo NX Launch
Nintendo's latest earnings were not a happy read.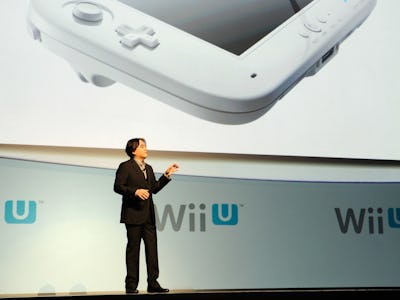 Getty Images / Kevork Djansezian
Nintendo released its first quarter 2016 earnings report on Wednesday, and it wasn't good. The company reported a 53 percent drop in Wii U global sales year-over-year, down to just 220,000 consoles sold in the three month period ending June 30.
In terms of overall figures, the company reported an operating loss of 5.13 billion yen (around $4.86 million) and a 31.3 percent decline in revenue, down to 62 billion yen (around $588 million).
Despite the Wii U sales, it seems that this should be a time for Nintendo to celebrate, owing to the runaway success of Pokémon Go. It featured little in the company earnings for two reasons: the quarter ended before the game launched, and Nintendo doesn't actually make Pokémon Go.
Nintendo appears to be focusing its efforts towards its next major console, codenamed NX. The Wii U had little in the way of major titles launched during the quarter, but one of Nintendo's biggest upcoming games — The Legend of Zelda: Breath of the Wild — is also coming to NX.
As the next console's launch approaches, there's little reason for Nintendo fans to buy a Wii U to play the company's latest creations. Of course, that's not how the company sees it — last month, Nintendo vice president of sales Scott Moffitt told consumers to buy a Wii U "while you can, because they won't be around forever."
The Wii U was never quite able to live up to its predecessor's runaway success, but it was always going to be a tall order. Nintendo's cumulative hardware sales as of June 30 show the Wii sold a staggering 101.63 million units. By comparison, the Wii U has only sold a total of 13.02 million devices. The Wii sold more than that in a single quarter: the quarter ending December 2010, four years after initial launch.
A lot is still unclear about the Wii U's successor, despite the fact that Nintendo has scheduled the NX for a March 2017 launch. A new report published Tuesday said that the NX would be a handheld, portable console powered by a Nvidia Tegra. The console, resembling something like a Wii U gamepad, would have detachable sides, transforming into a more traditional controller for home-based gaming.
Bizarrely, the NX is also said to include cartridges. If the reports turn out to be true, the NX could be a very strange console, one that struggles to communicate to consumers what its main purpose is.