Nintendo Switch: Nintendo May Have a Big Surprise in Store for E3 2019
Something major could launch.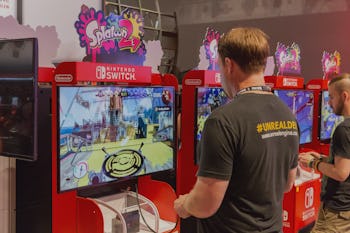 Flickr / marcoverch
Nintendo is reportedly planning a straight-up Switch extravaganza for its exhibition at E3 2019, the popular gaming conference that kicks off starting June 11. In addition to hosting the expected tournaments and teasing its upcoming titles, the Japanese video game giant may also have a surprise product launch planned.
There have been a flurry of reports and rumors that two new Switch variants are in the works: A more affordable, less flashy version and a more expensive unit with premium features. Neither console has been confirmed, but they are already going by unofficial online monickers like Nintendo Switch "Lite," "Pro," and "XL." According to a Wednesday report in Bloomberg, most of these reports have been accurate.
For starters, an anonymous source told Bloomberg that the cheaper Switch model "will likely be launched by the end June." The "Lite" variant has been predicted to cost roughly $199 and it will do away with the original console's "switch-ability" by having its Joy-Cons built into it body.
Nintendo addressed these rumors during its April 25 earning call. Read more about future of the Switch.
If this proves to be accurate, then it will very likely take place at E3, when thousands of game enthusiasts will be in attendance and even more watching online. The expected console will be especially temping for Nintendo fans who have held off on buying the Switch because of its price. But while this console seems increasingly certain, it also looks like E3 may yield disappointing news for fans holding out for the other rumored Switch variant, a premium variant with souped up features.
Bloomberg's report categorically shuts down the chatter that a premium Switch version is being developed. Instead, the sources said that a "modest upgrade" is coming to the existing model of the Switch. It's unclear if that means the company will stop selling the original console, but as it stands the Switch line up would look like this:
The cheapest, Switch "Lite" for $199
The first-generation Switch, currently priced at $299
The upgraded second-generation Switch, which could take the first-gen's place at $299
The second-generation upgrade isn't expected to be all that different than its predecessor. But the "Lite" unit is more intriguing: It has already been forecasted to be primarily a handheld device with the option to connect to an external display.
Ben Arnold, the senior director of innovation and trends at the Consumer Technology Association previously told Inverse that the Switch "Lite" would almost certainly come with the ability to cast its built-in display to a TV. An April 16 report by Japanese newspaper Nikkei later corroborated that prediction.
The Switch is only two years old, but it's well on its way to becoming the world's most popular console. Nintendo reported that it had sold more than 32 million units as of Dec. 2018 and Strategy Analytics predicted that the Switch will help Nintendo surpass Sony in console sales during 2019. All of these statements were before reports of new Switch models began to surface.
This year could be monumental for the iconic Japanese gaming firm.