E3 2019: Nintendo Addresses New Switch Rumors, Could Still Come This Year
What does the future hold for Nintendo?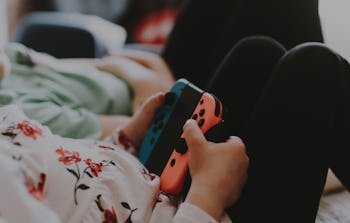 Unsplash / Kelly Sikkema
Nintendo wasted no time in quashing a Wednesday report that a cheaper Switch model will debut at the 2019 E3 gaming expo this June. The company held its earnings call for the fiscal year on Thursday, and while it had some exciting news to share about the console, it also said definitely that the device would not be launching at E3.
Company president Shuntaro Furukawa led the call by announcing an important milestone: The Switch has now outsold Nintendo's N64 console, clocking 34.7 million sales to date. He then teased that the Japanese gaming giant is developing a successor to the device. But gamers will have to wait until after the summer to get their hands on it.
"As a general rule, we're always working on new hardware and we will announce it when we are able to sell it," he said during the call. "But we have no plans to announce that at this year's E3 in June."
A summer release date for the console that has been nicknamed the Switch "Lite" seems increasingly unlikely. But an April 18 report by Japanese newspaper Nikkei suggests that a 2019 release date for a budget Switch variant might not be out of the question.
Citing anonymous industry sources, Nikkei reports that the cheaper model will be released this fall. The original Switch was officially announced by Nintendo on October 2016 and released on March 2017. A fall release date could be callback to the third anniversary of its announcement.
The report also corroborated a feature prediction made by Ben Arnold, the senior director of innovation and trends at the Consumer Technology Association. He told Inverse that the Switch "Lite" would be a a handheld device with the option to connect to an external display.
Here's the paragraph that refers to a budget Switch model translated using Google Translate:
"Nintendo will release a small bargain version of its main game console 'Nintendo Switch' this fall. The main function is as a portable type brought out outdoors, but it can also be played as a stationary type connected to a television."
A product like this could be exactly what Nintendo needs to rally sales right when interest in the Switch is beginning to slow. During its earnings call, the company predicted it would sell 17 million more Switches, which it revised down from a prediction of 20 million in January. A surprise announcement could rally sales and boost its bottom line by luring gamers who haven't picked up the original console because of its price tag.
Dr. Serkan Toto, the CEO of Kantan Games, has predicted that the so-called Switch "Lite" will cost $199, roughly $100 less than the original Switch and the PlayStation 4. When compared to the Xbox One S, future Switch Lite consumers would still save $50. Plus, Nintendo boasts a roster exclusive titles that can't be played anywhere else, like The Legend of Zelda: Breath of the Wild and Super Mario Odyssey.
Nintendo fans who haven't had a chance to play those games might be tempted to purchase a cheaper Switch if the price is right. But it looks like you'll have to wait till the fall at least if you're hoping to do so.