The New Nintendo Switch "Lite" Is Setting Fans Up for a Big Disappointment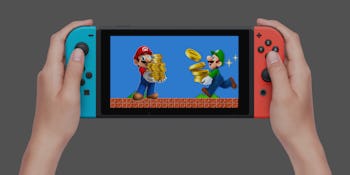 Nintendo
Since late March, analysts and supply chain reports built expectations for a budget version of Nintendo's popular Switch console. The unofficially dubbed Nintendo Switch "Lite" has been said to be non-detachable while retaining the ability to connect to a TV wirelessly or via a dongle. Some analysts have pegged the cost of this entry-level console as low as $199.
Update: This disappointment happened. Check our ongoing coverage of the official release here.
The original Switch costs $300 in the United States, and this price point has helped it become one of the world's most popular consoles with more than 34 million units sold as of March 31. Thanks largely to the Switch, Strategy Analytics now predicts that the Switch will help Nintendo surpass Sony in console sales for 2019.
All that momentum might not bode well for consumers. Rhys Elliott — a content marketing manager at the gaming industry analytics firm Newzoo — tells Inverse that the success of Nintendo's portable console has built enough hype for the company to sell even a marginally improved version of the original and still have it perform at the Switch's old price point.
"If the new model were priced at $249.99, it would remain competitive in the market," he said. "After all, demand for the Switch is still incredibly high, and its value proposition of console-quality portable gaming still appeals to consumers. It also [features] what the other platform holders, Microsoft and Sony, do not have with their consoles."
The Switch was a reversal of fate for Nintendo, whose previous console, the Wii U, was a notorious flop. The Switch's hybrid design makes it an in-home and portable gaming powerhouse that can be played solo or with a group of friends. The company's iconic and exclusive franchises, like Mario, Legend of Zelda, and Super Smash Bros., also continue to attract nostalgia-seekers and parents looking for family-friendly games.
Even offering a marginally lower barrier of entry would provide a boost in sales, which have started to slow just as the Switch approaches its two-year anniversary. Plus, Elliott concedes that Nintendo did the same thing with its previous handheld gaming system.
"Nintendo has a history of launching budget versions of its consoles a couple of years into their product lifecycles," he said. "A recent example is the Nintendo 2DS. This cheaper version of the 3DS targeted Nintendo DS owners who were not ready to upgrade to the full-priced 3DS model."
In fact, the plan may be for the company to replace the 3DS family altogether. During an April 25 earnings call, the company reported lower sales forecasts for the system that was introduced in 2011. To top it off, the games teased during the February Nintendo Direct presentation were all exclusive to the Switch. That is a sign that the company is moving away from supporting the devices and will introduce a 3DS-like Switch.
The release date for the Switch "Lite" still remains a mystery. Nintendo was quick to shut down rumors that it could launch during E3 2019 in early June. An April 18 report by Japanese newspaper Nikkei suggests that a 2019 release date might not be out of the question; it just might be for a product that's a little less "budget" than some fans might have hoped.