'Jessica Jones' Season 3 Cameos Provide Closure for Luke Cage and Iron Fist
A surprise cameo and a name-drop hint that the Marvel/Netflix universe isn't totally finished.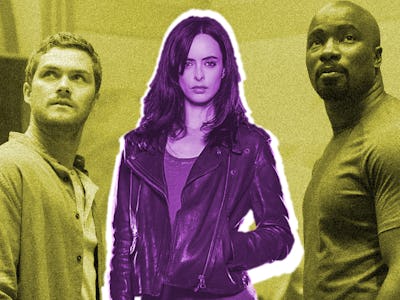 Netflix
Jessica Jones may be the last Defender standing, but she's not totally alone. The third and final season of Jessica Jones on Netflix gives some very minor closure for two other heroes in the MCU: Luke Cage and Iron Fist.
Major spoilers for Jessica Jones Season 3 ahead.
In Jessica Jones Season 3, the private detective in leather come face to face with Greg Sallinger (Jeremy Bobb), an intellectual and serial killer. Jessica's sister, Trish Walker (Rachael Taylor), who has become attuned to her powers since the end of Season 2, teams up with Jessica in the hopes of becoming a true superhero and to make a real difference in the world.
But things go awry. First, Trish starts taking her vigilante identity too far and racks up a small body count of her own, killing corrupt police officers and crooked real estate developers. She feels she's in the right, arguing the deaths of these men can make the world a better place. — at least, that's what Trish tells herself.
Then, Greg Sallinger kills Trish's mother Dorothy Walker. As revenge, Trish kills Sallinger, leaving his body to be discovered by Jeri Hogarth (Carrie-Ann Moss) with dozens of other New Yorkers in broad daylight.
This leaves Jessica Jones the only one who can stop Trish Walker, her own sister. In comes Luke Cage.
Sweet Christmas, It's Luke Cage
In Episode 13, the final entry in Jessica Jones Season 3 and the entire Netflix/Marvel universe, Mike Colter makes a cameo appearance as Luke Cage. His purpose is to help convince Jessica to take down her own family. Remember, in Season 1 of Luke Cage, Luke fought his own half-brother, Willis, also known as Diamondback, the second villain of his show's first season.
Cage, in a tailored suit — indicative of his place as the new kingpin of Harlem — surprises Jessica at her office to reassure her that fighting family is part of a superhero's life. And because it's the MCU, Luke reveals to Jessica that he sent Diamondback to the Raft, the sea prison in Captain America: Civil War where Cap's allies were briefly held in custody.
Luke Cage doesn't stick around long in Jessica Jones, but it's the first (and only) time fans see the character since his show was canceled last summer. Based on his clothing, we can deduce that things are going very well for Luke, who stands atop Harlem's underworld as the owner of Harlem's Paradise.
At the end of Luke Cage Season 2, Luke defeated Bushmaster and inherited Harlem's Paradise from Mariah. It was a tragic ending, as Mariah basically doomed Luke to become a villain as no one can control Harlem's Paradise without getting dirty. While we don't know much of what's going on in Harlem during Jessica Jones Season 3, we can guess that things are under control and that Luke Cage is still himself. For now.
Don't Forget the Iron Fist
Iron Fist, which starred Finn Jones as Danny Rand/Iron Fist, was also canceled within weeks of Luke Cage last year. The series ended on a cliffhanger, with Danny and Ward (Tom Pelphrey) traveling abroad to look for Orson Randall, the one before Danny who literally held the powers of the Iron Fist.
There's some small updates in Jessica Jones Season 3. In Episode 6, Jeri Hogarth loses Rand Enterprises as a client, even though she argues that "Danny Rand would never agree to this."
Jeri's competitor, who also happens to be an old friend, tells her, "Mr. Rand has been on some sort of sabbatical. The board made the decision yesterday."
That's that for Iron Fist. While fans are disappointed that Finn Jones also doesn't make a cameo in Jessica Jones Season 3, they'll take small comfort knowing that Iron Fist is still out there, somewhere.
Marvel's Jessica Jones Season 3 is streaming now on Netflix.