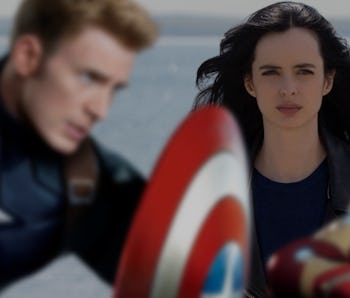 Entertainment
'Jessica Jones' Season 2 Easter Eggs Include a Major 'Civil War' Connection
Captain America, Hellcat, and Stan Lee make their way into the Marvel/Netflix series.
Netflix
Jessica Jones is back for Season 2 of her Netflix series, but the hard-drinking P.I. didn't go on her latest adventure in a vacuum. Throughout her journey of (seriously disturbing) self-discovery, eagle-eyed Marvel fans spotted Easter eggs peppered throughout the show which connect Jessica Jones to the wider Marvel Cinematic Universe.
In Season 2, Jessica Jones (Krysten Ritter) tries to move past her history with Kilgrave, the events of The Defenders, and her newfound fame as a superhero. In chasing the truth behind her strange powers, Jessica's learns her biggest enemy is someone close to home.
On the eve of Avengers: Infinity War, Jessica Jones still largely does her own thing, but there are some shout-outs to the blockbuster movies. Arguably the biggest is a direct reference to Captain America: Civil War, which left long-lasting ramifications to the MCU's continuity; in Episode 8, Jessica mentions "The Raft," the super-max prison for "powered" humans where Captain America's side of Civil War were imprisoned (until Cap broke them out, of course).
Below are other Easter eggs for Marvel fans to find in Jessica Jones Season 2. Warning: Spoilers for Jessica Jones Season 2 ahead.
The Whizzer
Right in the first episode, the obscure Marvel speedster the Whizzer makes his unexpected MCU debut. For more about the Whizzer, you can find out here.
Ghostbusters II
When we first reunite with Trish Walker, also the first episode, the radio talk show host is embarrassing herself for a good cause: She's dressed as "Patsy," her old nineties sitcom character, singing the theme song "It's Patsy!" on a karaoke machine at a kid's birthday party. Trish is trying to get sensitive hospital secrets to help Jessica's investigation, and someone at the hospital is an old fan.
Trish's awkward and hilarious opening is reminiscent of the beginning of Ghostbusters II, when Ray Stantz and Winston are performing at a kid's birthday party. Though Trish's career isn't quite in the dumps, it does suggest Trish is in for some hard times in the season ahead.
"With great power…"
Spider-Man's greatest lesson gets a homage twice in Season 2. The first is when the Whizzer says, "With great power, comes great mental illness" in a video diary about his super speed. The second is when Trish's new beau, Griffin, makes a weird mention of his "ball-tingling senses" and Jessica quips about his "Scrotum-Senses." Even Jessica Jones can't resist a fun dick and balls joke. Both of these happen in Episode 2.
It's Foggy!
In Episode 3, a clean-cut Foggy Nelson of Daredevil fame makes a brief cameo in Jeri Hogarth's office. Clearly, Foggy's law career is on the up and up.
Collect them all!
In Episode 3, the new super Oscar's kid Vido shows off his favorite toy: a Captain America action figure. Back in the first episode of Agents of S.H.I.E.L.D., the Avengers were turned into toys, dubbed "Heroes of New York." TK's Cap figure later becomes a minor plot point, when his mother tries to kidnap him out of the country.
Cat Scratch
Trish is slowly but surely evolving into her superhero identity, Hellcat. In Episode 8, while hooked on the formula that enhanced Simpson back in Season 1, Trish fends off bigoted muggers (they cornered Malcolm, who was at a gay bar on an investigation). She scratches one of them in the face with claw marks. Later, a nurse in Episode 13 tells Trish, "You just used up two of your nine lives."
The Raft
As mentioned previously, Jessica talks to her mother about "The Raft," a prison built to contain "powered" humans, in Episode 8. The Raft appeared in the third act of Captain America: Civil War, where Tony Stark tries to learn the whereabouts of Steve Rogers and Bucky Barnes out of Sam Wilson (where Anthony Mackie makes an unexpected, ad-libbed "Mark Fuhrman" joke).
David Mack's Paintings
In Episode 6, Oscar, a painter, paints a portrait of a sleeping Jessica after one of their nights together. The actual work is done by Marvel artist David Mack, who among other works painted the covers for Brian Michael Bendis's Alias comics. Mack confirmed it was his paintings in a tweet.
AKA Karlin Malus
The Spider-Man universe is expanding on the big screen, but one man who was Carnage is in Jessica Jones. The hippie "Dr. Karl" is in the comics as the more sinister Dr. Karlin Malus, a popular nemesis of Spider-Woman who once became the "Superior" Carnage. There's no indication of a Carnage symbiote, however, and "Dr. Karl" seems less malevolent — at least at first.
AKA Alisa Jones
Jessica's mother is named Alisa Jones, which is a different take on the comics. While "Campbell" is Jessica's middle name in the series (revealed in Episode 7), in the comics, "Jessica Campbell" is her full name prior to her adoption by the Joneses. Her new mother was named Alisa Jones. In the series, "Jones" is her birth surname.
Turk Returns
The weapons dealer of the Marvel/Netflix world, last seen in The Punisher, returns briefly in Episode 12 to sell Jeri a gun. He's also got food from Harlem Shake, a real burger restaurant in New York City.
Stan Lee Returns
Of course, no Marvel production is complete without a Stan Lee cameo. This time, the Generalissimo appears on the back of a Port Authority bus advertisement in Episode 9. In the Marvel/Netflix corner, Stan Lee was seen as a police officer (also on posters), but now it looks like he's advertising class action law firms. Boy, these shows love lawyers.
Marvel's Jessica Jones Season 2 is now streaming on Netflix.