How James Chen Was Almost Marvel's First Asian Superhero
Chen had a long journey before 'Iron Fist.' He has an even longer path ahead.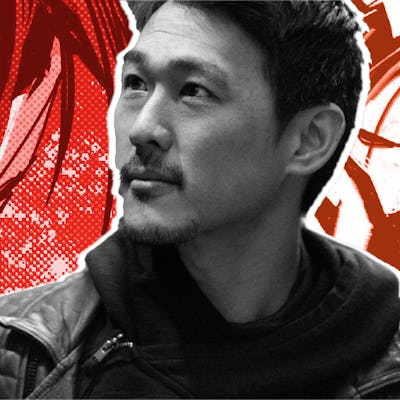 Marvel Entertainment
James Chen is still training for his shot as a superhero. After playing Samuel Chung in Marvel's Iron Fist, the Asian-American actor who abandoned a future in biochemistry to pursue the arts is still honing his skills, ready for a chance to bring Samuel Chung's story to life in the Marvel Cinematic Universe.
That's less likely now that Netflix isn't producing a third season of Iron Fist, but Chen is used to people in his way telling him no. That's how he got to Iron Fist in the first place.
"When I told my dad I wanted to become an actor in college, he freaked," Chen tells Inverse. "He actively discouraged me from pursuing arts growing up. Whenever he saw me drawing he was torn. But I loved it."
Best known for his role as "Kal" in the AMC series The Walking Dead, Chen's recent role in the Marvel franchise was Samuel Chung, a role radically reinterpreted by the television series. In the comic books, Samuel Chung is an undocumented Chinese immigrant who trains under Daredevil to fight crime as the superhero Blindspot.
In Iron Fist, however, he's a volunteer at the neighborhood community center, with hints of a background as a civil service attorney. Sam is a far cry from Blindspot, a skilled martial artist, parkour runner, and gifted intellect who builds his arsenal of gadgets (including his stealth suit) out of cheap D-cell batteries from a bodega.
Blindspot, as he appears in the comics, is a story Chen strongly believes in, a character he thinks the mainstream world needs to see. Blindspot also epitomizes everything about Chen's identity, as someone who still struggles to find his place as an Asian and an American.
"It felt very real," Chen says, recalling the moment he discovered Blindspot on the set of Iron Fist. "You see people like him all the time in Chinatown or Flushing. People who wear their stories on their face. People who come in and work their ass off, proving America is the land of opportunity, which resonates with me and my father. I thought it was genius."
"You see people like him all the time in Chinatown or Flushing. People who wear their stories on their face. People who come in and work their ass off, proving America is the land of opportunity, which resonates with me and my father. I thought it was genius.
Raised in the Long Island suburbs by Chinese immigrant parents — dad was "a pretty serious aerospace engineer," mom was a physician — Chen expected to become a doctor or lawyer, a path all too familiar to many Asian-Americans. But a childhood spent drawing his favorite X-Men and watching The Tonight Show planted the seeds for his journey into the arts and the entertainment industry, a field systematically hostile to faces like Chen's.
"I didn't grow up performing, but something about the ritual of seeing actors have amazing conversations about their lives to Jay Leno or Conan was this magical, mysterious thing," Chen says.
Ironically, he began watching late night TV because his father enjoyed it, even though Mr. Chen never instilled in his son the possibility that his face could be on TV too.
"I don't think I ever told him, but this is his fault," he laughs.
In college, Chen was studying to become a research scientist when his life changed dramatically.
While an undergrad at the University of Pennsylvania, Chen was a double major in economics and chemistry (and hating it) when, one semester, he took an elective: Intro to Acting. The freedom to express himself, without formulas or numbers, was the catalyst that fundamentally transformed Chen — to the horror of his family.
"My dad is an immigrant success story," he says. "He came by himself when he was 18, worked his ass off washing dishes in Coney Island. When we visited UPenn together, the chair for the biochemistry program was similarly an immigrant from China." Dad was thrilled. "'This is the guy, he's gonna take you under his wing, he's gonna make you a research scientist,'" Chen recalls his father telling him walking the campus grounds. "And I was like, 'Okay?'" His father's dream sounded like his nightmare.
"When I finally lived outside from home for the first time, I rapidly developed thinking for myself and I knew it wasn't for me."
Emboldened by that intro to acting course, Chen downgraded his chemistry major to a minor, which gave him barely enough time to explore his newfound passion. His grades dropped.
"It just took a life of its own," he says. "I would take classes downtown in Philadelphia. I would skip organic chemistry lab to write and direct this play for the Chinese Students Association. Instead of studying for a midterm, I was on Mapquest trying to route from the subway to the bus to a taxi to get to an industrial I booked. All my professors hated me."
A "killer student" in high school, Chen found his academic standing in freefall for the first time. And it was liberating.
"I had a healthy bubble when I was a kid. I didn't know what was out there. Everything was building towards college, and once I was in college, so many questions were being asked. Without passion [for science], I couldn't make it happen. By the time I was performing, writing, acting, I knew I just wanted to do that."
After college, Chen stayed in Philly to hone his craft. He took a job as a busboy just days after graduation. Dad was pissed.
"My dad was like, 'James, your mother and I have been married for thirty years, and this is the hardest time of our marriage.' When he said that, I felt no guilt. Acting took a life on its own, and showed me the right way to go. I knew that's what I wanted to be doing."
Chen earned his MFA at Yale, where he applied himself in a way that would have made his father proud in undergrad. Years later, Chen was deep into shooting Iron Fist Season 2, his biggest gig, when series showrunner Raven Metzner pulled him aside. Before that moment, no one told Chen who his character actually was.
"We were shooting in that kitchen of the community center. Raven was directing, and he's like 'By the way, we have an Easter egg with your character. Your character's name is Samuel Chung. In the comics he plays a superhero named Blindspot."
After years of student short films, playing nameless extras in studio blockbusters, and acting as all kinds of "Yangs," "Sungs," and "Lees" on network TV crime procedurals, Chen thought he hit the actor's jackpot: Playing a Marvel superhero.
"My mind flooded with these incredible dreams and possibilities. I was tilting my head towards him, 'What are you trying to tell me?'"
The dreams were dashed. "'Oh no, we're just borrowing his name from the comics.' And that's how he left it with me."
While there was some professional disappointment, Chen was more bummed about what an Asian Marvel superhero would have meant to audiences still yearning for representation. It was the casting of white actor Finn Jones in Iron Fist that led the conversation, after all.
"The community is screaming for it," he says, "Not just the comic book world but as a country. We're opening our eyes to Asian people, particularly Asian men as fully-developed, three-dimensional heroes. This is the time."
Blindspot was co-created by Ron Garney and Charles Soule, who worked as an immigration attorney and has said in interviews to "know" people like Samuel Chung. The character bears the archetype of a 21st-century Peter Parker: a young, underdog genius willing to fight for what's right. Chen says that is especially what the Asian-American community is looking for.
"He's Asian, he's educated, he knows how to fight, he invented his own suit, he's parkouring through New York. I thought it was the coolest story. I would love to see Blindspot further developed."
Since learning about Blindspot, Chen is again honing his craft to become a true Marvel superhero, applying himself just as he did that year before Yale. "I'm keeping up with my martial arts training," he says, dusting off his four years of kung fu and taking up MMA in New York.
His love for martial arts began with video games like Mortal Kombat and Street Fighter, scant examples of Asian heroes in American pop culture from his childhood. "It is an amazing combination of skill, athleticism, precision, which is related to acting. It's also practical for an Asian actor to know. There's just a lot of work opportunities."
But until Marvel calls, Chen is still auditioning and giving this "acting" thing a go. He says the opportunities for actors like him have changed since Yale, especially now, after blockbusters like Crazy Rich Asians eclipsed the summer box office.
"I have noticed, particularly this year, the quality and quantity for roles for Asian guys is improving," he explains. "They're specifically writing Asian characters. The next evolution is to make sure they're well-developed. I was in the mix for Wu Assassins. I was pinned for a series regular on a Shonda Rhimes show. It's there. Asian actors actually have a chance."
But rather than wait for opportunities, Chen is DIY-ing to make his own opportunities — just like Samuel Chung.
"I've been writing. I have so many experiences and observations exploring Asian male identity. The longer I'm in this business the more I become aware of the importance to do something meaningful to me," he says. "As an ethnic minority actor, we very rarely have power unless we're crafting our own stuff. That's what I'm doing to be proactive and feel satisfied as an artist."
But that's only until Marvel greenlights Blindspot.
"I'm ready. I feel like the timing is good."