'Way to the Woods': Trailer, Plot, Release Date for the Xbox "Deer Game"
The cute, Miyazaki-like game won over E3 2019. Here's when you can start playing.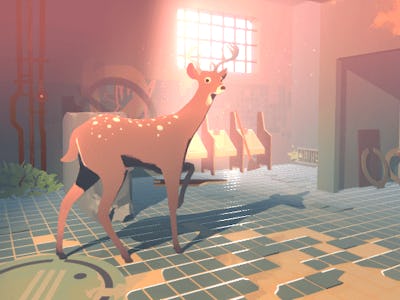 Xbox
In a massive change of pace from all the cool guns and epic explosions, Microsoft's presentation for Xbox at E3 2019 included a one minute trailer for a visually arresting indie game about a lost deer looking for their way home.
It's called Way to the Woods. But the internet, in its infinite wisdom, has unofficially dubbed it "The Deer Game." While it doesn't have the triple-A pizzazz of Microsoft's other games (not even the support of Keanu Reeves), it's become a sleeper favorite over the last 24 hours since its teaser trailer reveal.
Here's everything you need to know about Way to the Woods, including the release date, trailer, and how to play the Deer Game.
What Is Way to the Woods?
Way to the Woods is a third-person adventure game created by Anthony Tan, a young video game developer based in Melbourne. The game is a third-person survival adventure, in which two deer — one adult deer, one fawn — embark on a long journey home across a world after human civilization has collapsed.
On the official website for the game, Tan describes his game as thus: "Two deer in a strange, abandoned world without humans must find their way home. Find food, shelter, safety, and answers on your way to the woods."
Tan cites influences such as Hayao Miyazaki, specifically films like Princess Mononoke and Spirited Away, as well as the acclaimed survival video game The Last of Us. He further cited "a lot of music" and artists, though Tan did not mention any specific musicians.
Unsurprisingly, it looks beautiful.
When Is the Way to the Woods Release Date? And for What Consoles?
Originally scheduled to come out "early 2019," according to the game's website, it will now launch in 2020.
The game will be available for Xbox One and PC. (Sorry PS4 and Nintendo Switch owners.)
Where Can I Watch the Trailer?
You can watch the trailer for Way to the Woods in the embed below.
The Music Sounds Amazing!
Doesn't it? That's because the official score for the game is handled by Aivi and Surasshu, the musical duo best known for their work on Steven Universe.
I Feel Like I've Seen This Game Before…
If Way to the Woods looks familiar, that's because it went viral a few years ago. Way back in 2015, Tan — then just 16-years-old — posted screenshots of his project on Reddit while "waiting nervously" for a response from his development grant application. After the game reached the front page of Reddit, it caught the attention of Team17, a publisher of indie games like Allison Road and Yooka-Laylee.
Since then, Way to the Woods has been in development, with E3 2019 being its final summer cooking before it launches next year.
Why Are People Calling It "The Deer Game"?
Because it's a video game in which you play as deer. The game itself is not unlike Untitled Goose Game or Wreckcoons, which are also in-development games about cute animals illustrated in a colorful art design.
Like indie films and music, indie gaming is the perfect realm for a game like Way to the Woods. It's not a full blown, $60-at-retail experience, but an innocent detour into something else in between all the blockbuster mayhem.
Way to the Woods will be released on Xbox and PC in 2020.