'Rick and Morty' Season 5 Could Have a Bonkers Kanye West Episode
Why is this happening? What will it look like?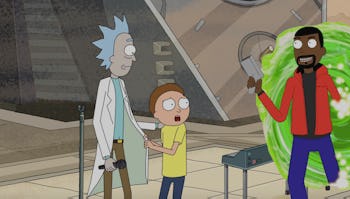 Adult Swim / Kanye West
Rick and Morty co-creators Justin Roiland and Dan Harmon love Kanye West so much they offered him the opportunity to work on an upcoming episode, but it probably won't happen until at least Season 5.
"I'm giving him an episode, I'm making it official," Harmon said in an interview this month with TheBlast.com. "We have 70, he can have one — Kanye, you can have an episode." Harmon called Kanye a "kindred spirit," and Roiland enthusiastically added, "We f**king love Kanye."
"Come hang out, write a Rick and Morty episode with us," Roiland said. "It'll be the Kanye episode."
Rick and Morty Season 4 will officially release sometime in November 2019, according to a video from the starring duo that aired during a WarnerMedia upfront event held in this month in New York.
Harmon and Roiland have never offered such a blanket promise to anyone before, but they hold Kanye in high enough esteem as a "visionary" that they'd be willing to collaborate with Kanye or even give him full creative control over an episode. At this point, Rick and Morty Season 4 might be too far along in production for it to happen anytime soon, so the Kanye episode would happen in Season 5 or later — if West takes up the offer.
For anyone that's wondering how and why this is even something people are talking about, know that West has publicly proclaimed himself a huge Rick and Morty fan time and time again. Among high-profile people like Elon Musk who love the show, Kanye is undoubtedly the most famous.
Kanye West first publicly outed himself as a Rick and Morty fan in May 2018, shortly after the series was renewed for an additional 70 episodes. Kanye called it his "favorite show," saying that he's seen every episode at least 5 times.
Things escalated further on Kanye's 41st birthday on June 8, 2018, when he released Kids See Ghosts, a collaborative album with Kid Cudi. That same day, his wife Kim Kardashian tweeted a special happy birthday song with Rick and Morty speaking/singing the lyrics.
As part of the song, Rick narrates how he creeps into Kanye's bed in the middle of the night and plants a kiss on his forehead. It's totally creepy, and we sincerely hope this scene doesn't play out in this future Kanye episode of Rick and Morty.
The song is produced and performed by Seattle indie synth-pop duo Chaos Chaos, whose songs have appeared on Rick and Morty several times before, most notably "Do You Feel It?" in the 2015 episode "Auto Erotic Assimilation."
In December 2018, when a paparazzi asked Kanye what his favorite show on TV was, his reply was, simply: "Rick and Morty."
Kanye West voicing himself on Rick and Morty would be a delight, especially as a music-focused sequel to "Get Schwifty." But giving Kanye creative freedom to control an entire episode? This sounds like a risky move.
Kanye once had a video game in development about his mother reaching the gates of heaven, but the project failed miserably. Titled "Only One" after a Kanye songs, the game was widely panned as a concept after a trailer in June 2016 confused and alienated lots of people, and it remained trapped in development hell before eventually disappearing.
This feels like an indication that while Kanye West is excellent at producing and performing music, his skills in other creative endeavors are sometimes uneven. His public persona is as unpredictable as it is unapologetic, so for that to influence a creative endeavor like animated television production seems almost unfathomable.
We can barely imagine what Kanye would do with a Rick and Morty episode if given the chance, but if we're being honest, we're also king of dying to see what could happen.
Rick and Morty Season 4 will premiere sometime in November 2019 on Adult Swim.